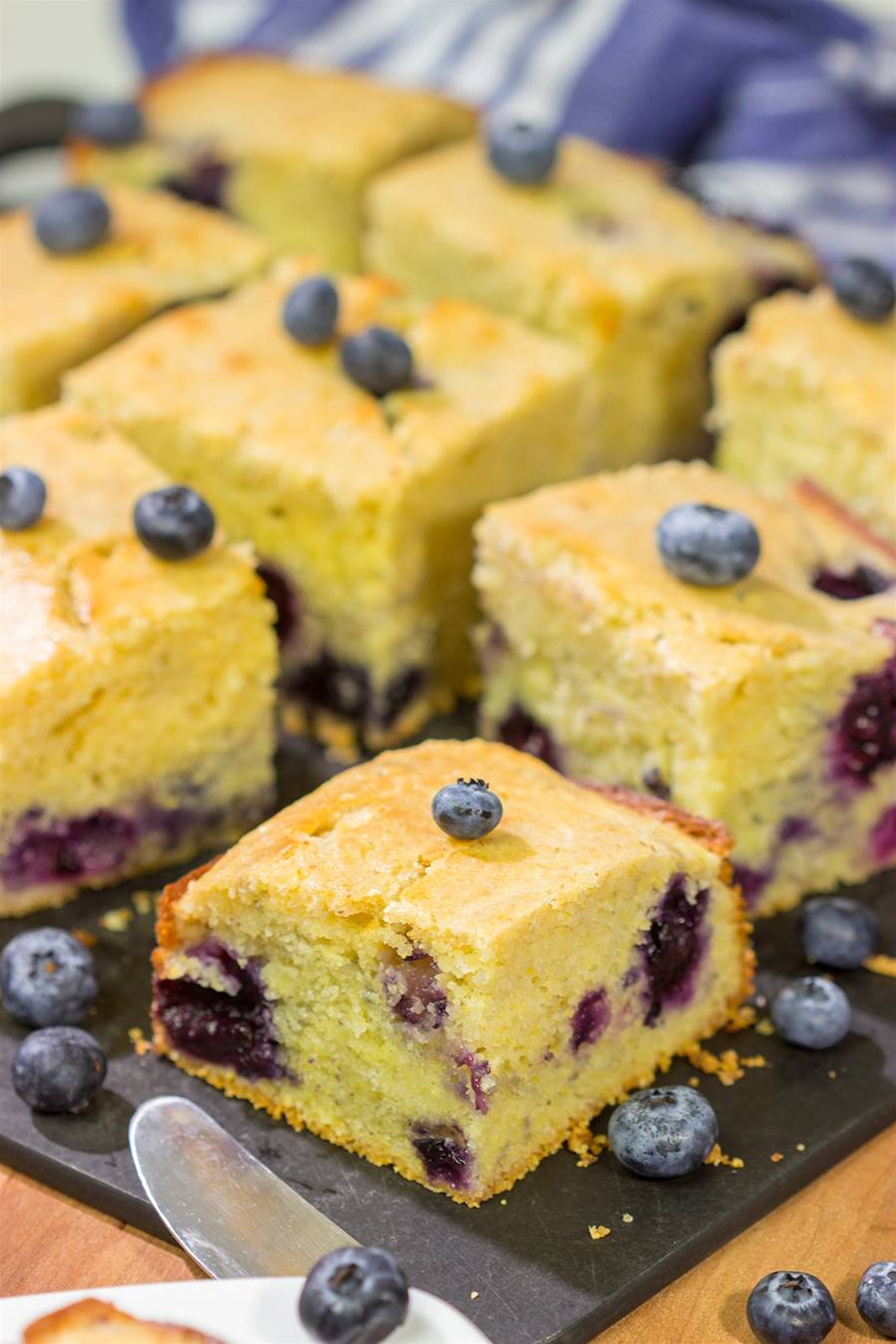 Blueberries in cornbread, you say? Well, that certainly sounds different! I've been seeing a bunch of recipes recently for fresh blueberries – it is that time of the year after all. However, one recipe in particular from caught me eye. Cornbread…with 2 cups of blueberries mixed in. I'm a sucker for good cornbread, and I love blueberries, too. I needed to give this idea a try!
This cornbread recipe is baked in an 8″ square pan, and the first thing I noticed is how nicely it rises. It produces 9 rather tall squares of delicious cornbread. (One of the squares disappeared as I cleaning up from taking these photos. It happens.) I often use a cast iron skillet for cornbread, and I'll likely use that for the next batch of this Blueberry Cornbread.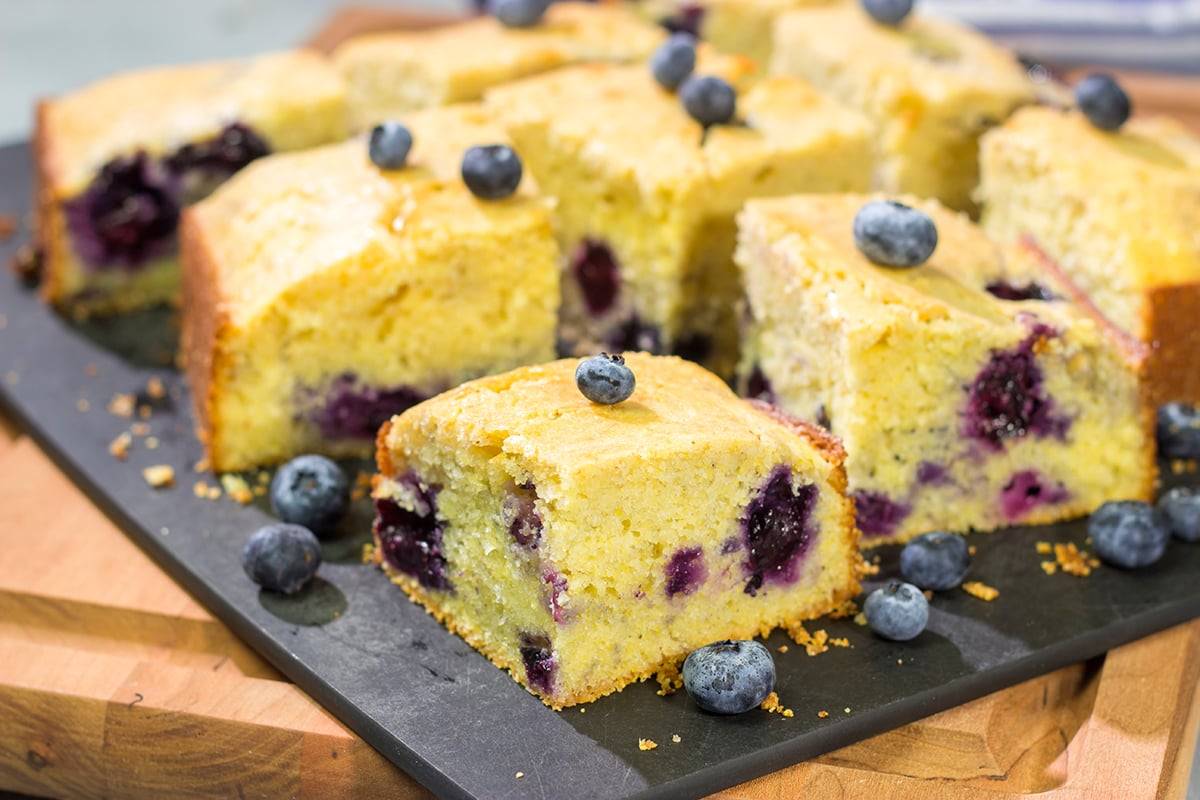 The cornbread itself has excellent flavor, and at some point I'm going to try this recipe again without the berries. Don't get me wrong – the blueberries are a fun addition to this cornbread, but I do want to try it plain. It was buttery, moist and packed with flavor!
One of the things I love about making different recipes is picking up unique tips and tricks along the way. This recipe called for the bottom of the baking pan to be dusted with 2 tablespoons of cornmeal. The result was fantastic! The cornmeal at the bottom gets a bit crunchy in the oven, and it adds a wonderful texture to the finished version. (I also suspect it keeps the bottom from getting soggy.)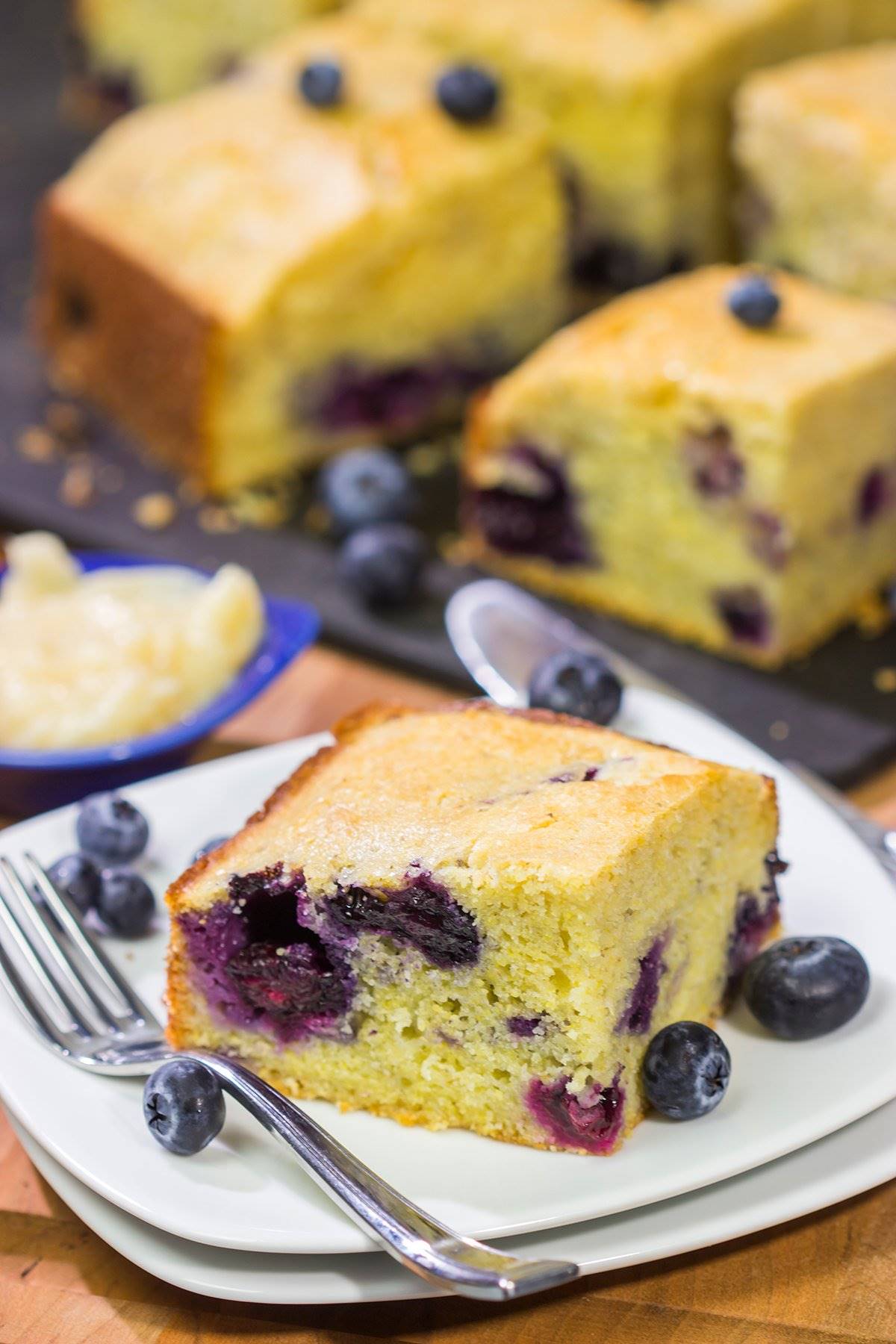 Blueberry Cornbread
But let's talk about those blueberries. I wasn't sure what to think about a cornbread recipe with berries in it. It's not a traditional cornbread. It's not blueberry muffins. It's somewhere in between, and this recipe is fantastic! Seriously. The little pockets of blueberries add a nice sweetness to the cornbread without being overly sweet. Definitely putting this one on the list to make again this summer!
As I let this Blueberry Cornbread cool on the counter, Laura walked by and commented, "Interesting. It smells delicious! But what do you serve it with?" Valid question.
While this Blueberry Cornbread could be served for breakfast, it isn't a blueberry muffin…or a corn muffin for that matter. I would put this cornbread on the sweet side of savory. That means it would pair well with a savory but sweet meal – something like balsamic chicken or smoked ribs brushed with BBQ sauce both come to mind. I also just ate this cornbread as a midafternoon snack. Lightly toasted with a bit of that whipped honey butter on top? Delicious!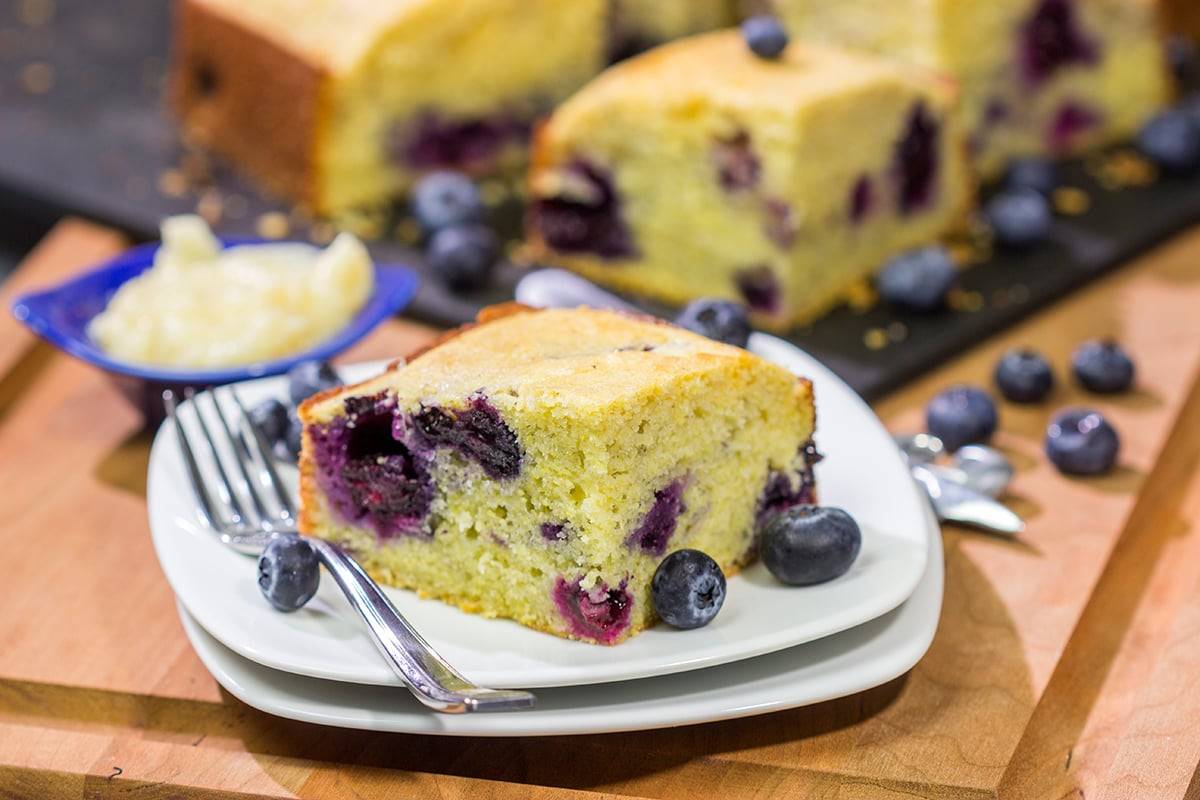 Fresh or Frozen
While we are rolling into fresh blueberry season, the nice thing about this Blueberry Cornbread recipe is you can use fresh or frozen berries. If you use frozen berries, I recommend letting them thaw first and then drain any excess juice that might be left in the bowl.
Whipped Honey Butter
This cornbread is moist and delicious in its own right, but if you want to take it to a whole new level then smear some whipped honey butter on top! This honey butter is insanely easy to make – it's literally honey and room-temperature butter whipped together until smooth. Once spread on top of the cornbread, though? Magical things happen!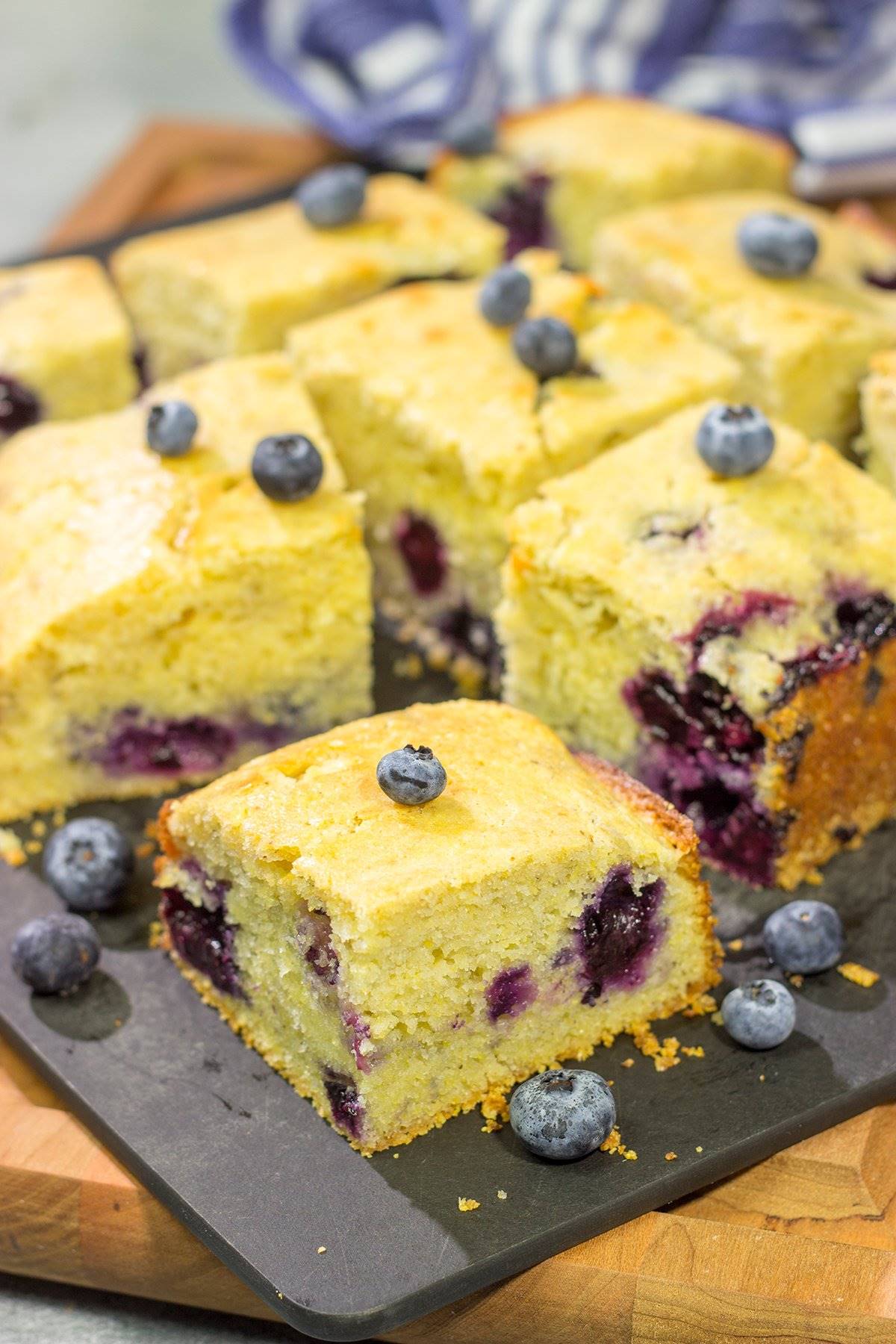 If you're hunting for a unique summer side dish, then look no further! This recipe is now a favorite in our house, and I hope you enjoy it as much as we do. Happy baking!