Last year, we were down near Charleston, SC for our annual summer vacation, and we stopped into a local fried seafood shack for dinner. Shack is the best word to describe this type of restaurant. It's the type of restaurant that can only really survive in a beach town. Think plastic "picnic" baskets full of fried seafood and beer in red plastic cups.
Aside from the super casual vibe, the restaurant was fantastic. Truly! They had amazing fried shrimp, and the hushpuppies were to die for. Speaking of hushpuppies, they had a whole assortment of flavors. We opted for classic hushpuppies for the table, but I made a mental note to try some of the other varieties.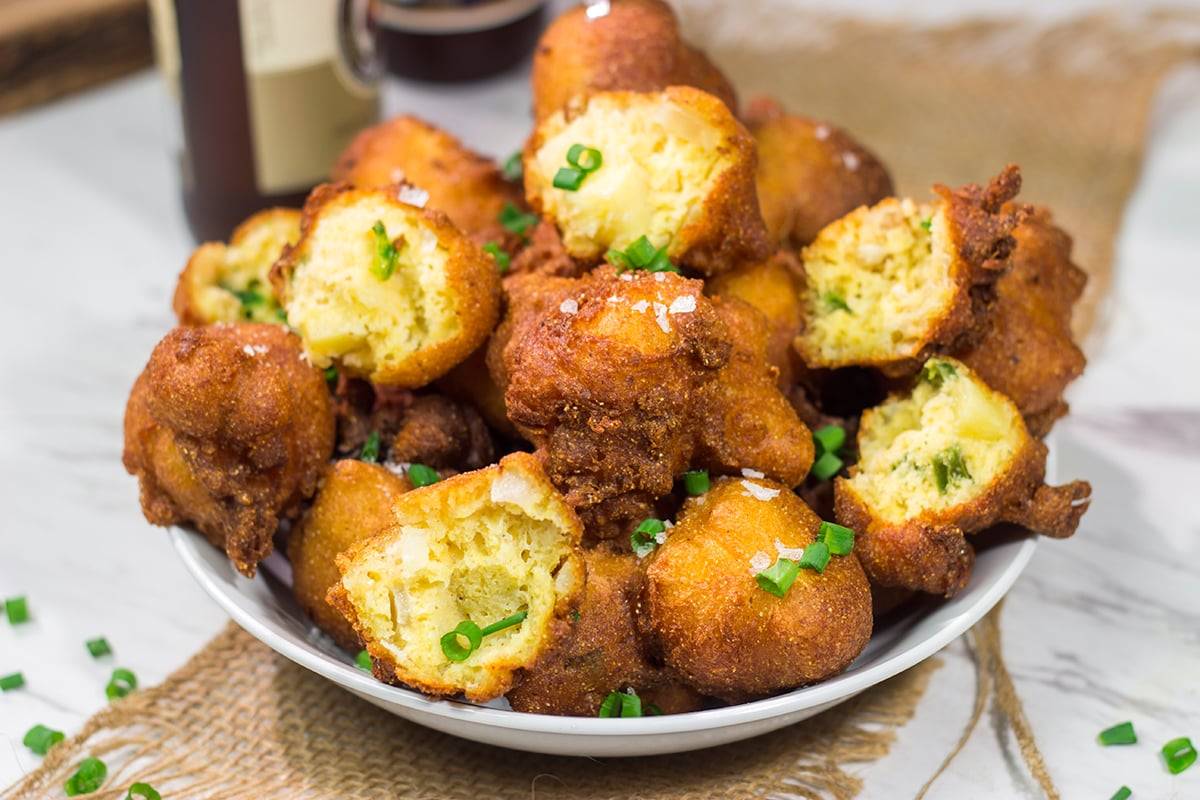 Jalapeno Pineapple Hushpuppies
Back home, I grabbed my go-to hushpuppy recipe and made some changes. The result was a batch of these fantastic Jalapeno Pineapple Hushpuppies. Holy cow! The sweetness from the pineapple combined with the spiciness from the jalapenos was rather addicting.
What is a Hushpuppy?
Before we go into this recipe any further, we should stop and address hushpuppies in general. Hushpuppies are deep-fried balls of cornmeal batter that are often served as a side dish for seafood. What goes well with fried seafood? Well more fried food, of course!
Hushpuppies are essentially fried cornmeal batter…and they're delicious! The origin of the name is a bit murky, but one suggestion is that cooks would fry up bits of leftover cornmeal batter at fish fries and feed it to the dogs. Thus, "hush puppies" came into being. Whatever the origin, a good hushpuppy is a thing of beauty!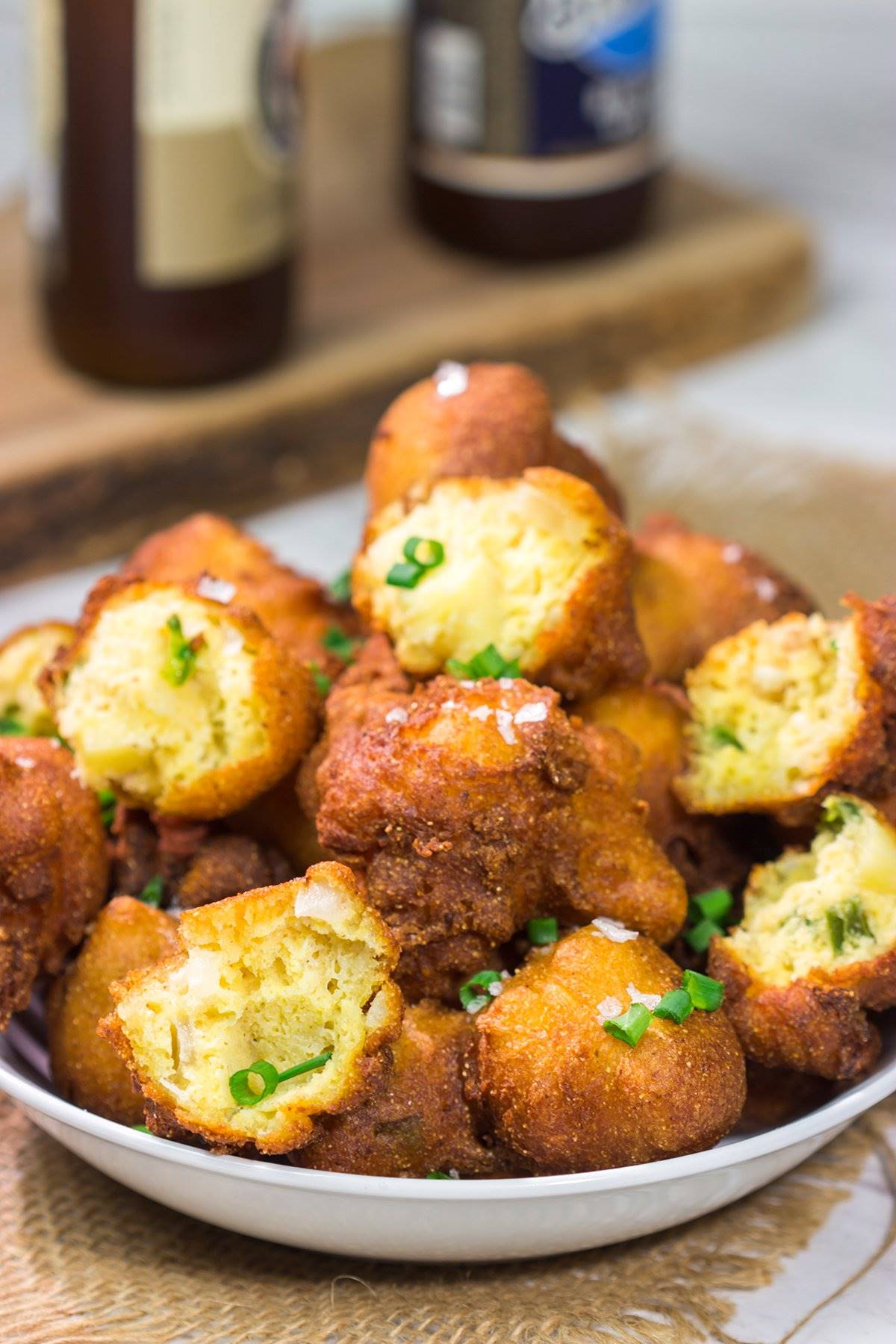 I like to use a bit of all-purpose flour in my hushpuppy batter. Hushpuppies made from 100% cornmeal end up falling apart in the frying oil. But if you add too much flour, the hushpuppies end up being dense and heavy. A 2:1 ratio of cornmeal to flour is my go-to. The 'puppies have plenty of flavor from the cornmeal, and they hold together in the oil.
I also like to use a generous amount of baking powder in hushpuppy batter. As soon as the batter hits the hot oil, the baking powder makes it expand quite a bit. The result is a lighter, airier hushpuppy, and it's quite delicious! These hushpuppies won't be perfectly round balls. Instead, they'll have little nubbins of fried deliciousness due to the way the batter expands in the hot oil. Give 'em a try. You'll know what I mean by the term 'nubbins of fried deliciousness.'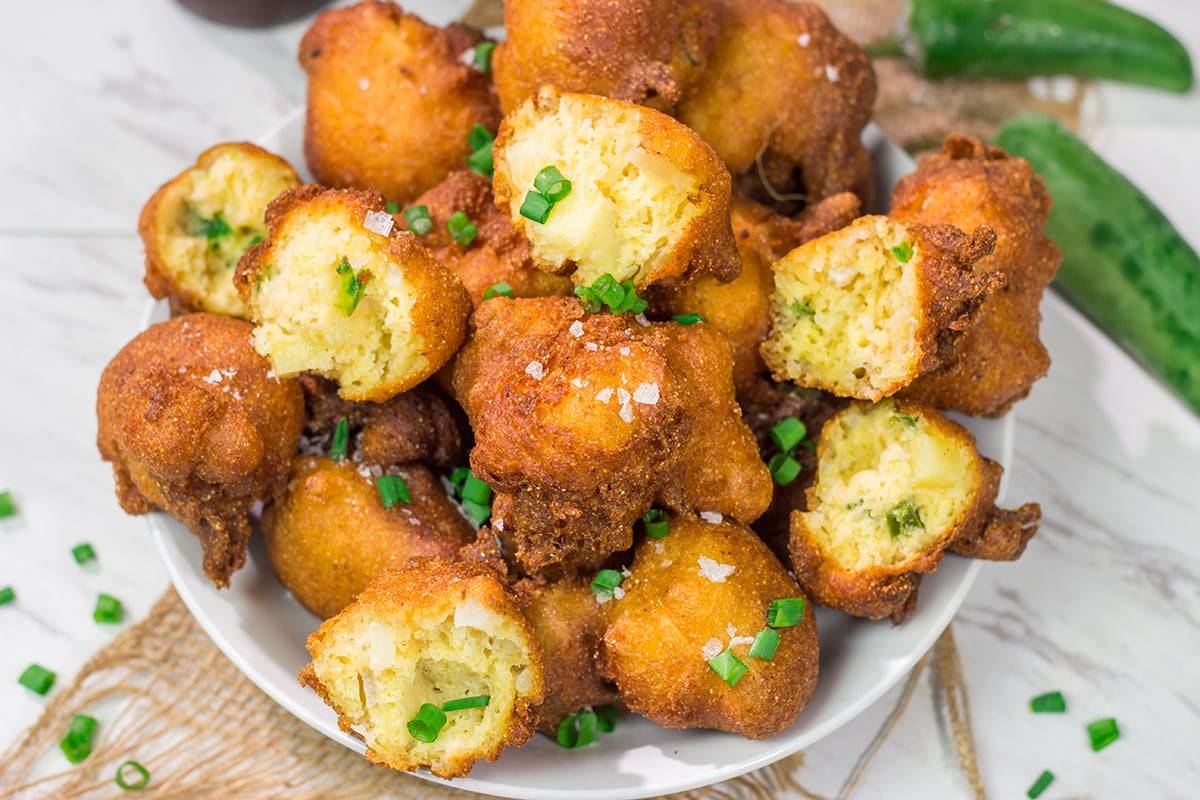 The pineapple and jalapeno twist to this batch of hushpuppies was pretty fantastic. The slightly sweet and slightly spicy taste of these 'puppies was unique in a good way. A generous pinch of salt on top created a combination of flavors that had me reaching for another…and another…and, well, yeah.
Hushpuppy Dipping Sauce
Hushpuppies are often served with tartar sauce for dipping. However, in this case, I opted to omit a dipping sauce as I was afraid there would be too many different flavors competing. We enjoyed these by themselves, but I suspect they still would've been good with tartar sauce or perhaps remoulade sauce.
If you're looking for a fun side dish for fish fries or barbecue, then keep these Jalapeno Pineapple Hushpuppies in mind. They're delicious. Enjoy!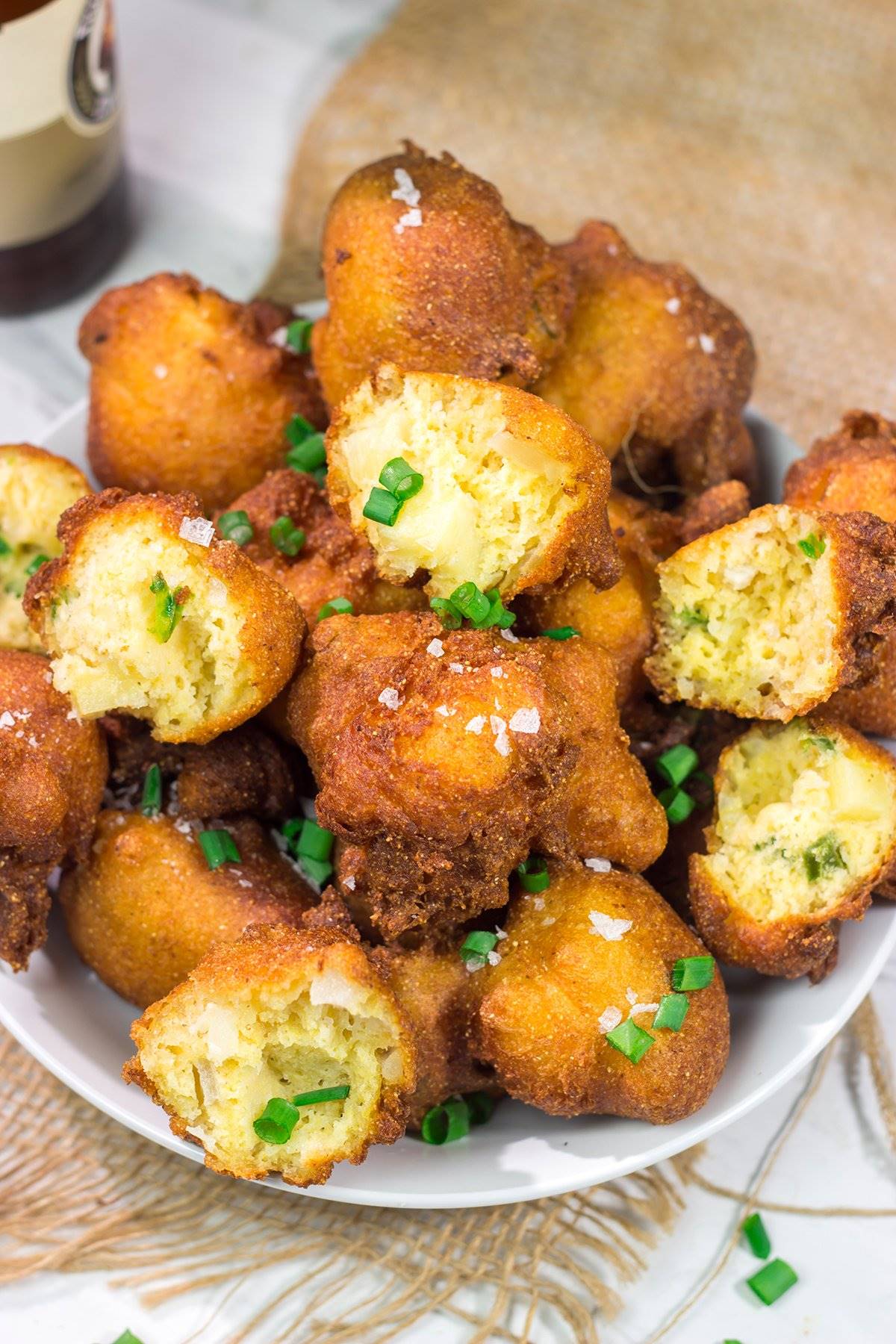 Jalapeno Pineapple Hushpuppies
A little bit sweet. A little bit spicy. These Jalapeno Pineapple Hushpuppies are a fun twist on the classic seafood side dish!
Prep Time: 10 minutes minutes
Cook Time: 25 minutes minutes
Total Time: 35 minutes minutes
Servings: 8 servings
Calories: 267 kcal
Ingredients
2 cups cornmeal 1 cup all-purpose flour 3½ tsp baking powder 1 tsp salt 1½ Tbsp granulated sugar ¾ cup diced yellow onions ½ cup finely diced pineapples canned pineapple tidbits can be substituted 2 jalapeño peppers seeds and ribs removed, diced 1 large egg lightly beaten 1¼ cups buttermilk canola or vegetable oil for frying for serving chopped green onions for serving