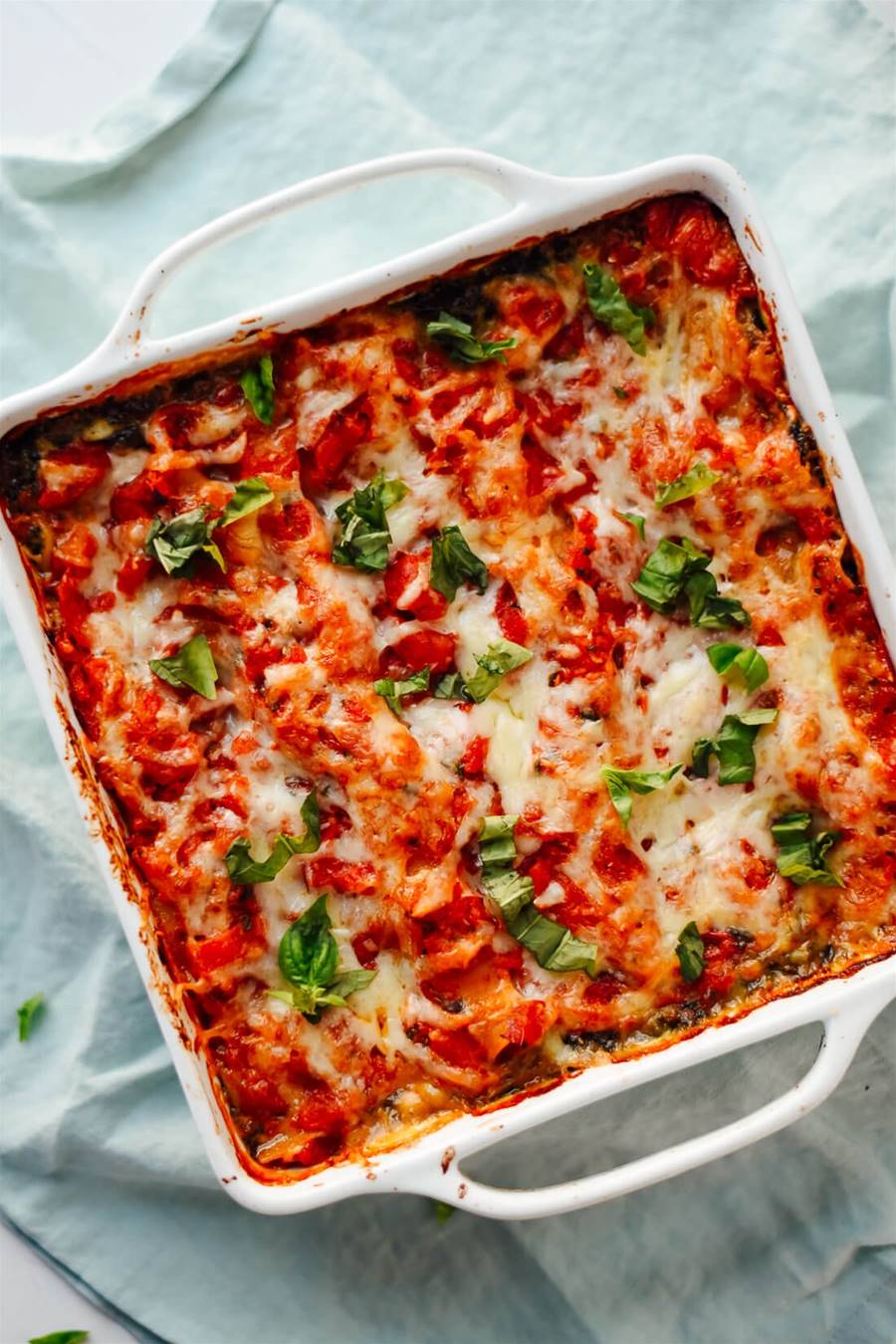 This post is brought to you by DeLallo Foods.
This lasagna recipe is for my friend Scott. A few months ago, he wanted to cook dinner for his wife, Sara, and came here to look for a lasagna recipe. I had nothing to offer him! Sorry, Scott.
I'm making up for it with this spinach artichoke lasagna, which was originally intended to be a spinach mushroom lasagna, but the mushrooms weren't quite right. Artichokes were meant for this lasagna.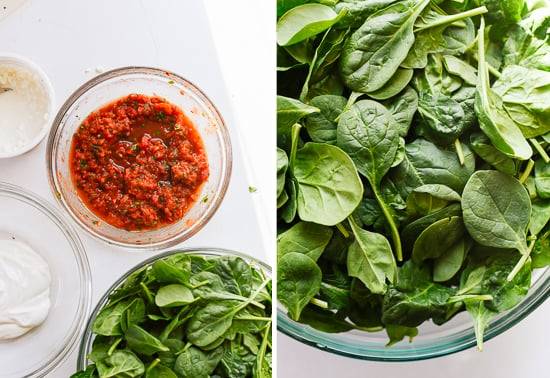 I honestly hadn't attempted lasagna in four years, after one bad veggie lasagna experience that happened soon after I started this blog. I remember thinking that I had put a lot of effort into that lasagna for such lackluster results and swore off cooking lasagna indefinitely.
That was before I had discovered no-boil lasagna noodles. It was also before I learned that photographing a recipe under my artificial overhead kitchen lights is a very bad idea. It was a long time ago and I'm happy to report that I have finally conquered the art of the lasagna.
This is one freshly flavored, not-too-heavy, nearly healthy spinach lasagna. I love it so much that I could hardly resist eating leftover lasagna for breakfast.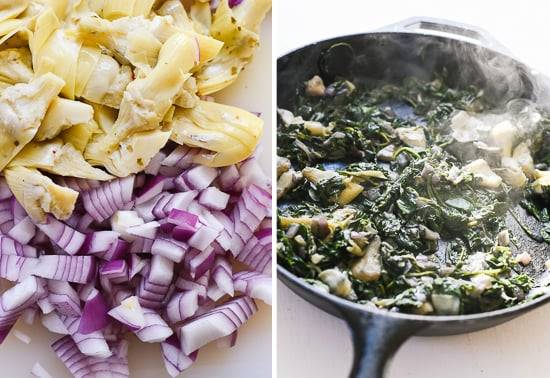 I hoped that this lasagna could be a quick weeknight meal, but it's a little more involved than I had initially planned. You will, however, save a step if you use DeLallo Foods' no-cook whole wheat lasagna noodles like I did. (I partnered with DeLallo this year because they make the best and their lasagna noodles are no exception!)
I tried using jarred sauce in my first lasagna, but I used too much and my lasagna, while delicious, was a little too soupy and too salty. I found the perfect solution with a simple, no-cook, diced tomato, basil and garlic sauce.
If you are in a pinch for time, though, I think you could substitute store-bought sauce for the homemade sauce below now that I got the quantity right. I think you could also get by with frozen spinach instead of fresh, but that fresh spinach flavor really plays nicely with the fresh-tasting tomato sauce. If you aren't that into artichokes or can't find any, you can skip them altogether for a classic and delicious spinach lasagna recipe.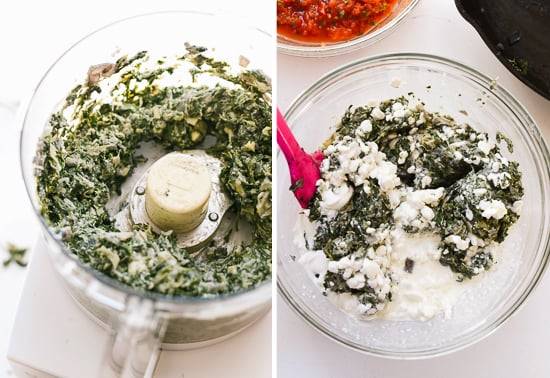 The recipe below makes heavy use of a food processor, but if you don't have one, you could probably get by with a blender. If you don't have a blender, buy crushed tomatoes instead of diced, skip the blended cottage cheese step and chop the spinach mixture after it's done cooking.
That's right, I used cottage cheese in this recipe instead of the classic ricotta. It's a little trick I learned from America's Test Kitchen (they are full of tricks!). Cottage cheese has a better flavor and texture than ricotta when it comes to lasagna. I am not a fan of cottage cheese on its own, but it's perfect in this recipe!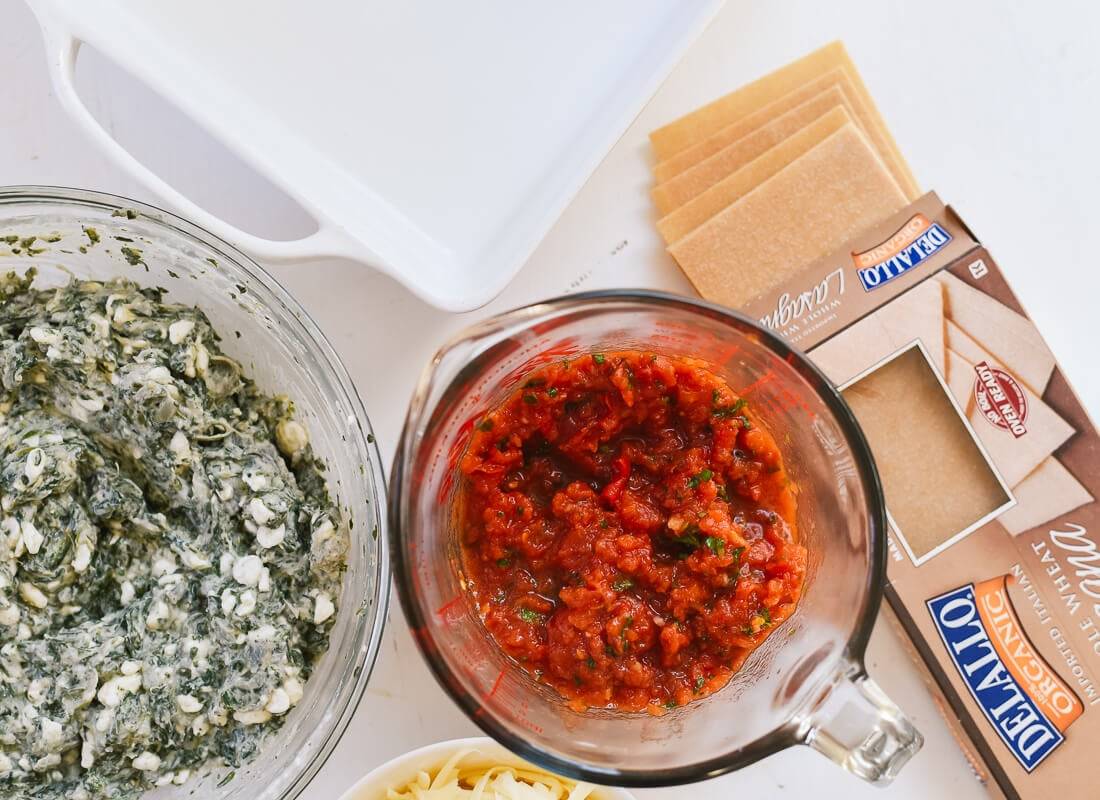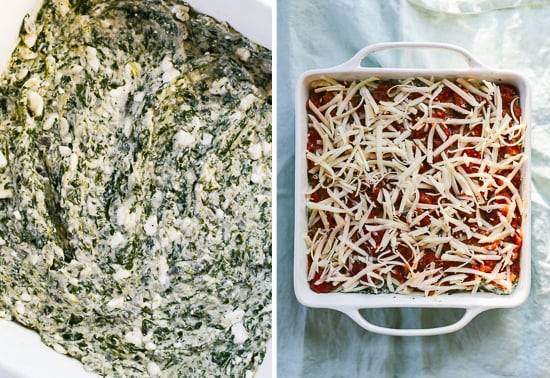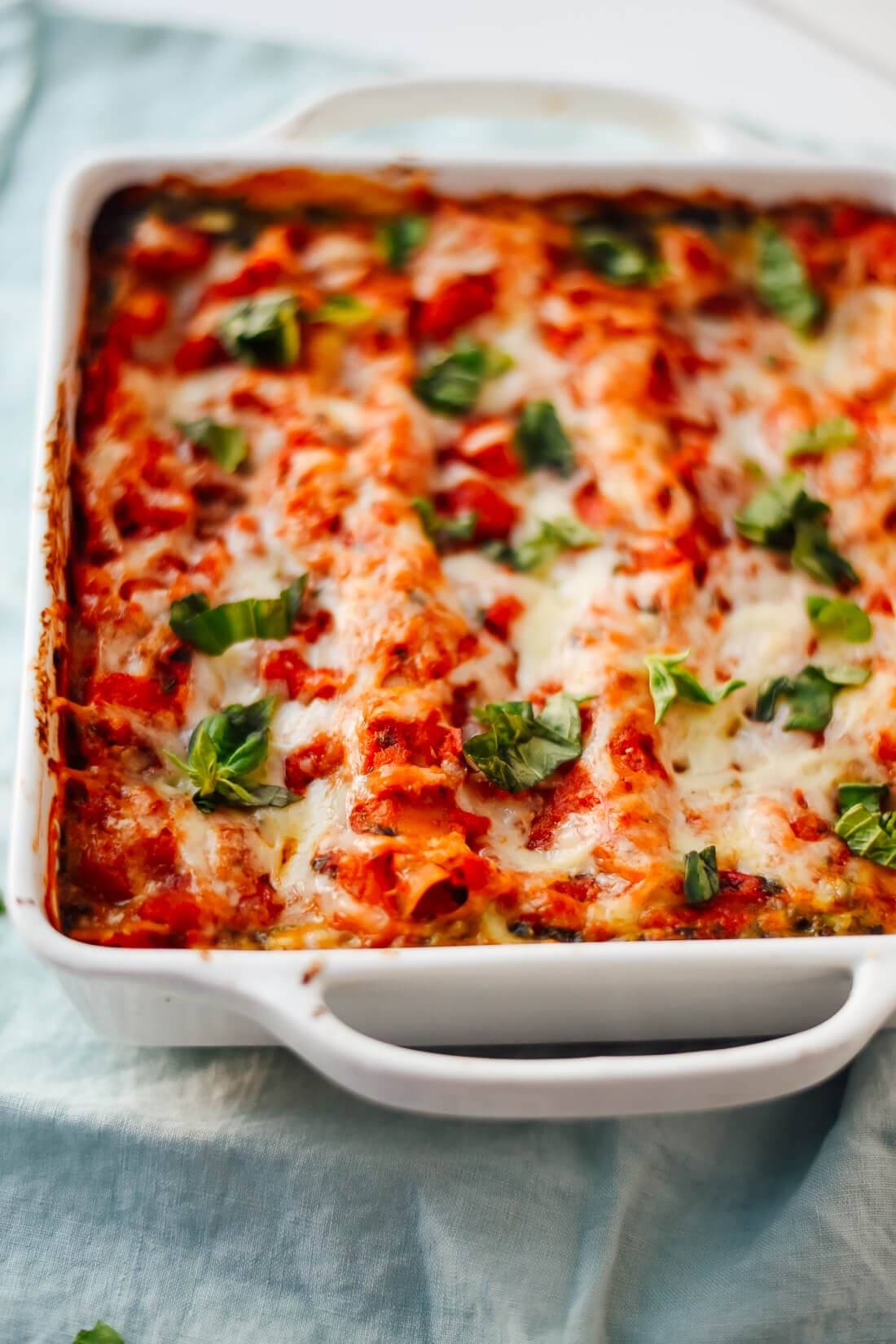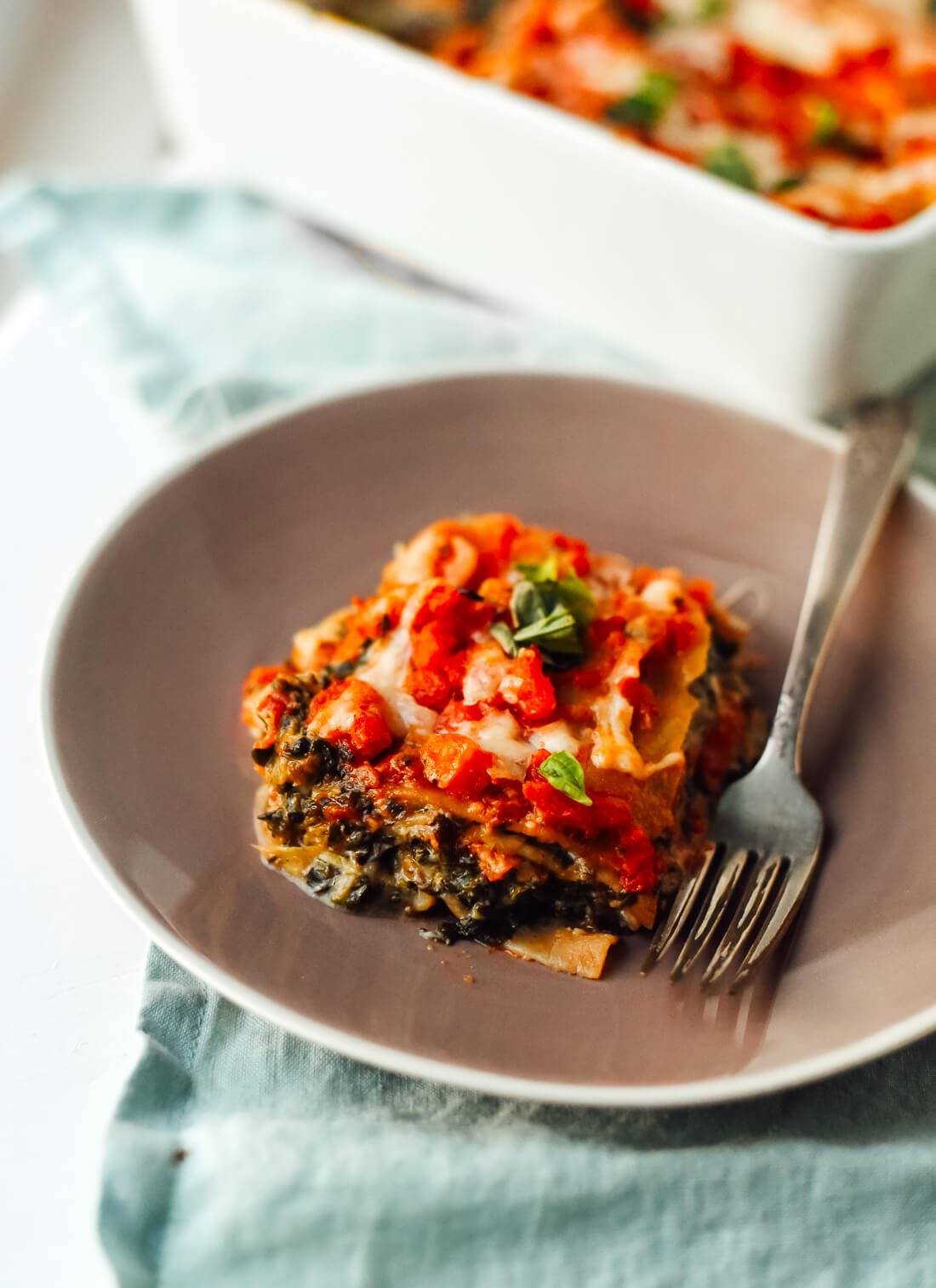 Spinach Artichoke Lasagna
Author: Cookie and Kate Prep Time: 20 mins Cook Time: 50 mins Total Time: 1 hour 10 minutes Yield: 8 to 12 servings 1x Category: Main Cuisine: Italian
★ ★ ★ ★ ★
5 from 177 reviews
This healthy vegetarian spinach lasagna includes lots of fresh spinach, jarred artichokes and the simplest homemade tomato sauce. This lasagna tastes even better the next day! Recipe yields one 9-inch square lasagna, which is enough for 8 or more servings.
Ingredients
Tomato sauce (or substitute 2 cups prepared marinara sauce)
1
can (28 ounces) diced tomatoes
¼ cup
roughly chopped fresh basil
2 tablespoons
olive oil
2
garlic cloves, pressed or minced
½ teaspoon
salt
¼ teaspoon
red pepper flakes
Spinach artichoke mixture
2 cups
(
16 ounces
) low fat cottage cheese
2 tablespoons
olive oil
1 cup
chopped red onion (about
1
smallish red onion)
¼ teaspoon
salt
4
cloves garlic, pressed or minced
1 cup
jarred or defrosted frozen artichokes, drained (simply omit for a classic spinach lasagna), quartered if necessary
12 ounces
baby spinach, preferably organicFreshly ground black pepper, to taste
Remaining lasagna ingredients
9
no-boil lasagna noodles
2 cups
(
5 ounces
) shredded fontina cheese or low-moisture, part-skim mozzarellaGarnish: sprinkling of additional chopped fresh basil
Instructions
Preheat oven to 425 degrees Fahrenheit. To prepare the tomato sauce, first pour the tomatoes into a mesh sieve or fine colander and let them drain off excess juice for a minute. Transfer drained tomatoes to the bowl of a food processor. Add the basil, olive oil, garlic, salt and pepper flakes. Pulse the mixture about 10 times, until the tomatoes have broken down to an easily spreadable consistency. Pour the mixture into a bowl for later (you should have about 2 cups sauce).Rinse out the food processor and return it to the machine. Pour half of the cottage cheese (1 cup) into the processor and blend it until smooth, about 1 minute. Transfer the mixture to large mixing bowl. No need to rinse out the bowl of the food processor this time; just put it back onto the machine because you'll need it later.Warm 2 tablespoons olive oil a large skillet over medium heat. Once the oil is shimmering, add the chopped onion and ¼ teaspoon salt. Cook, stirring often, until the onion is tender and translucent, about 4 to 5 minutes. Add the garlic and cook, stirring constantly, until fragrant, about 30 seconds.Add the artichoke to the skillet, then add a few large handfuls of spinach. Cook, stirring and tossing frequently, until the spinach has wilted. Repeat with remaining spinach. Continue cooking for about 12 minutes, stirring frequently, until the spinach has dramatically reduced in volume and very little moisture remains in the bottom of the pan.Transfer the spinach artichoke mixture to the bowl of the food processor and pulse until the contents are finely chopped (but not puréed!), about 12 to 15 times. Transfer the mixture to the bowl of whipped cottage cheese. Top with remaining cottage cheese and mix well. Season to taste with salt and pepper. Now it's lasagna assembly time!Spread ½ cup tomato sauce evenly over the bottom of an 8-by-8 or 9-by-9 inch square baker. Layer three lasagna noodles on top, overlapping their edges as necessary. Spread half of the spinach mixture evenly over the noodles. Top with ½ cup tomato sauce, then sprinkle ½ cup shredded cheese on top.Top with three more noodles, followed by the remaining spinach mixture. Sprinkle ½ cup shredded cheese on top. (We're skipping the tomato sauce in this layer.) Top with three more noodles, then spread the remaining tomato sauce over the top so the noodles are evenly covered. Sprinkle evenly with 1 cup shredded cheese.Wrap the lasagna with a layer of parchment paper over the top (or cover tightly with aluminum foil, but don't let the foil touch the cheese). Bake, covered, for 18 minutes, then remove the cover, rotate the pan by 180 degrees and continue cooking for about 12 more minutes, until the top is turning spotty brown. Remove from oven and let the lasagna cool for 15 minutes before sprinkling with chopped basil and slicing.
Notes
The information shown is an estimate provided by an online nutrition calculator. It should not be considered a substitute for a professional nutritionist's advice. See our
Disclaimer: This post was created in partnership with DeLallo Foods and I received compensation for my participation. Opinions are my own, always. Thank you for supporting the sponsors who support C+K!