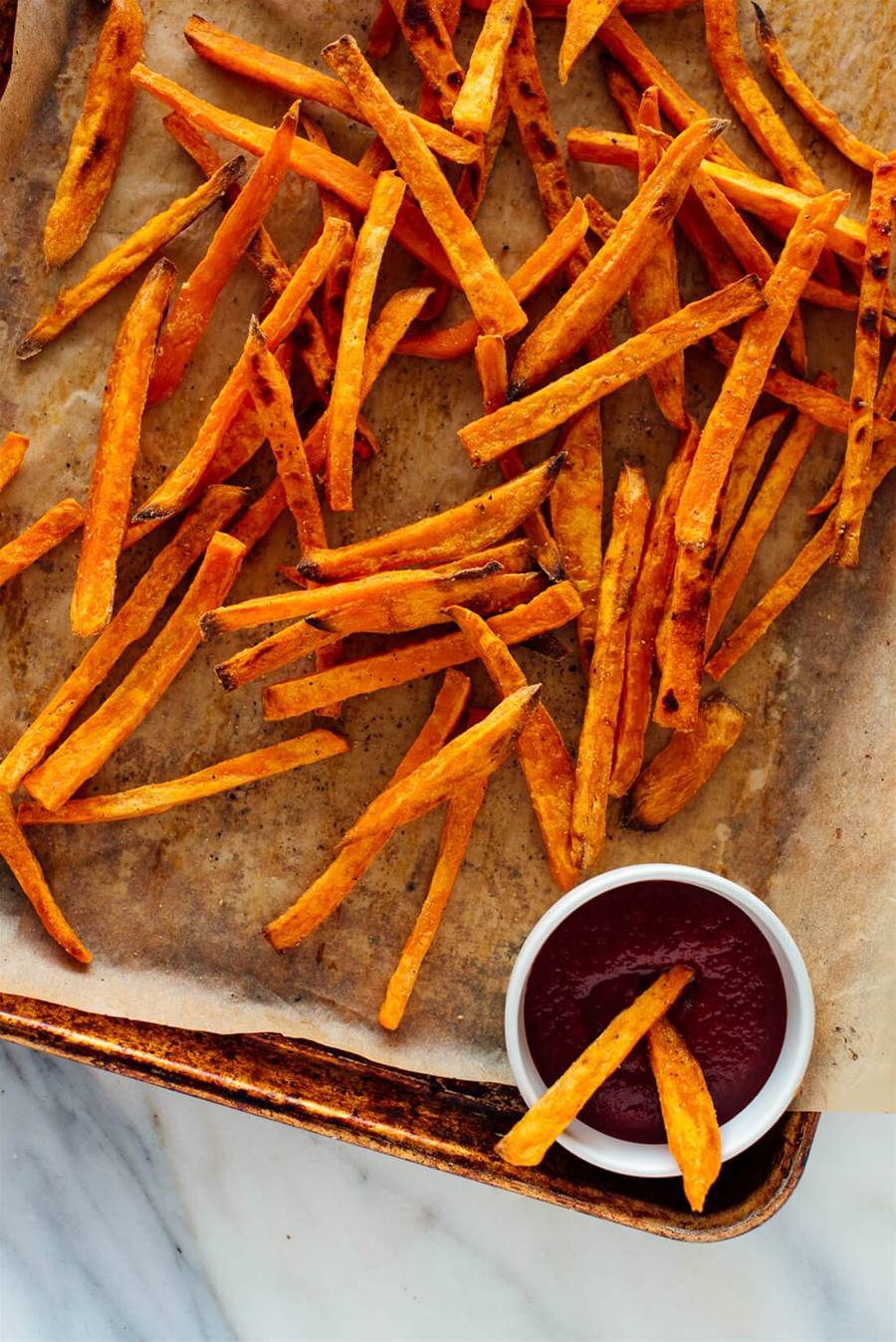 These sweet potato fries will change your life. I'm serious! They are salty-sweet, crunchy, and spicy if you wish. Baked sweet potato fries have been one of my favorite snacks since I first shared the recipe eight years ago.
These crispy fries beat their fast-food fried Russet cousins in simplicity and ease. They require fewer cooking steps because they're baked rather than fried.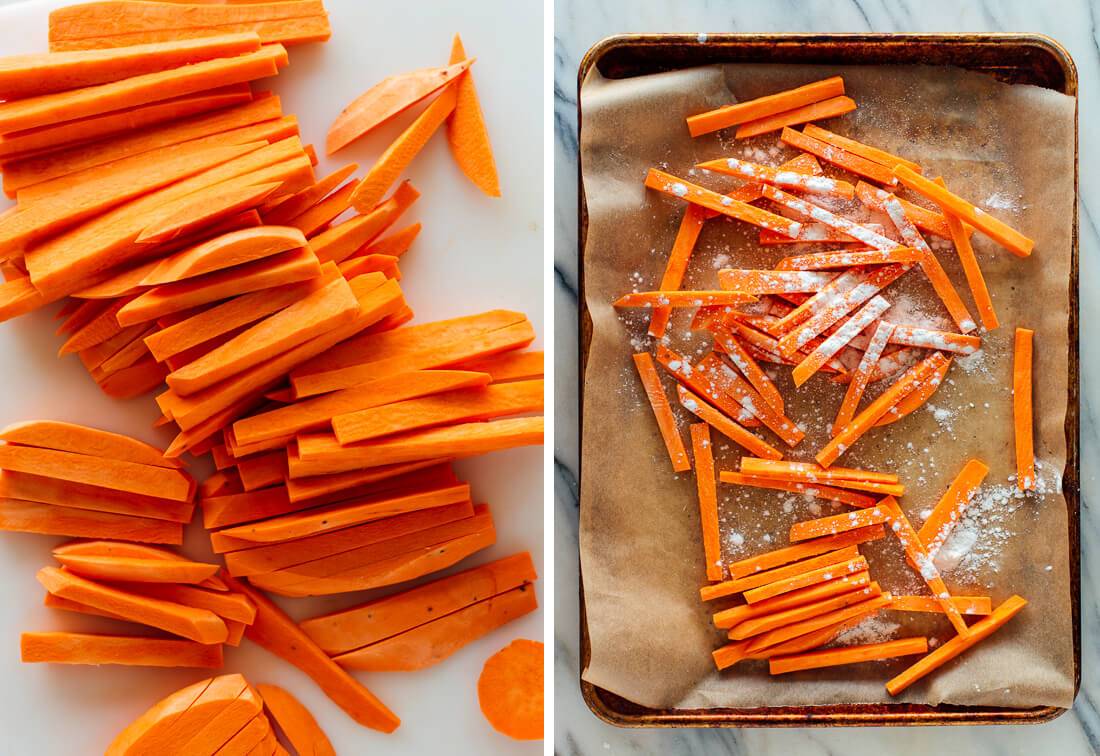 Over the years, I've learned a few tricks to make my sweet potato fries even more crispy. Crispy fries or bust!
You'll learn all of them as you make the recipe, but I'm sharing my top tips in more detail below. Are you hungry for sweet potato fries yet?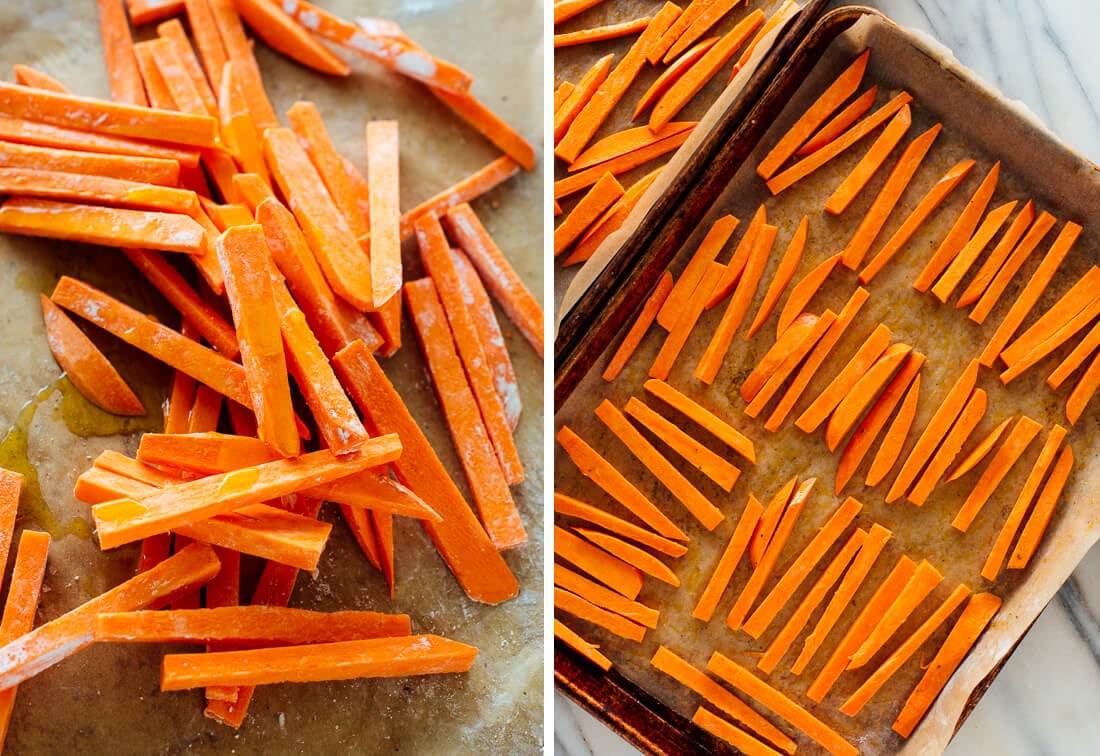 How to Make the Best Sweet Potato Fries
1) Slice your fries thinly.
You want your fries to be about 1/4″ wide, or close to it. Thick fries never get crispy.
Here's how to slice a sweet potato into fries: Rest your sweet potato on its side on a sturdy cutting board. Working lengthwise, slice off a 1/4″ thick slab from one of the sides. Turn the sweet potato onto the flat side so it's more stable. It gets easier from there!
Continue cutting the sweet potato into slabs, and then cut the slabs into thin fries. As you're cutting the slabs, you'll eventually want to turn the sweet potato onto the now-larger flat side to maintain stability.
2) Toss your sliced fries in cornstarch before oil.
Cornstarch really helps to get the outsides crisp! It's a little trick I learned from a commenter named Jeni (thanks Jeni). I've played around with various amounts of cornstarch and olive oil and found the perfect ratio.
I've experimented with arrowroot starch as well, and it produced fries that were somewhat less crisp, but it's worth using if that's what you have.
3) Divide your fries between two pans and arrange them in even layers.
Overcrowded fries steam each other and never get crispy! You can fit one pound of fries per pan.
Be sure that each fry lies flush against the pan, not piled on top of other fries. The fries develop crisp edges when they're resting on a hot surface.
4) Bake at 425 degrees Fahrenheit.
Any lower, and your fries will be soggy. Any higher, and the oil will start smoking. Plus, at higher temps your fries will turn from crisp to burnt way too fast.
Halfway through cooking, you'll flip the fries with a spatula and swap the pan positions (from lower to upper rack and vice versa). This helps ensure that they bake evenly, turning perfectly golden on the outside and cooking through on the inside.
5) Season last, if desired.
Add salt before baking the fries, but wait to add any spices until after baking. Otherwise, the spices will burn and lose their flavor. I love to balance the sweetness of the fries with a little cayenne pepper and garlic powder, and lots of freshly ground black pepper.
Another benefit of seasoning last? You can add spices to taste, so you won't overdo it.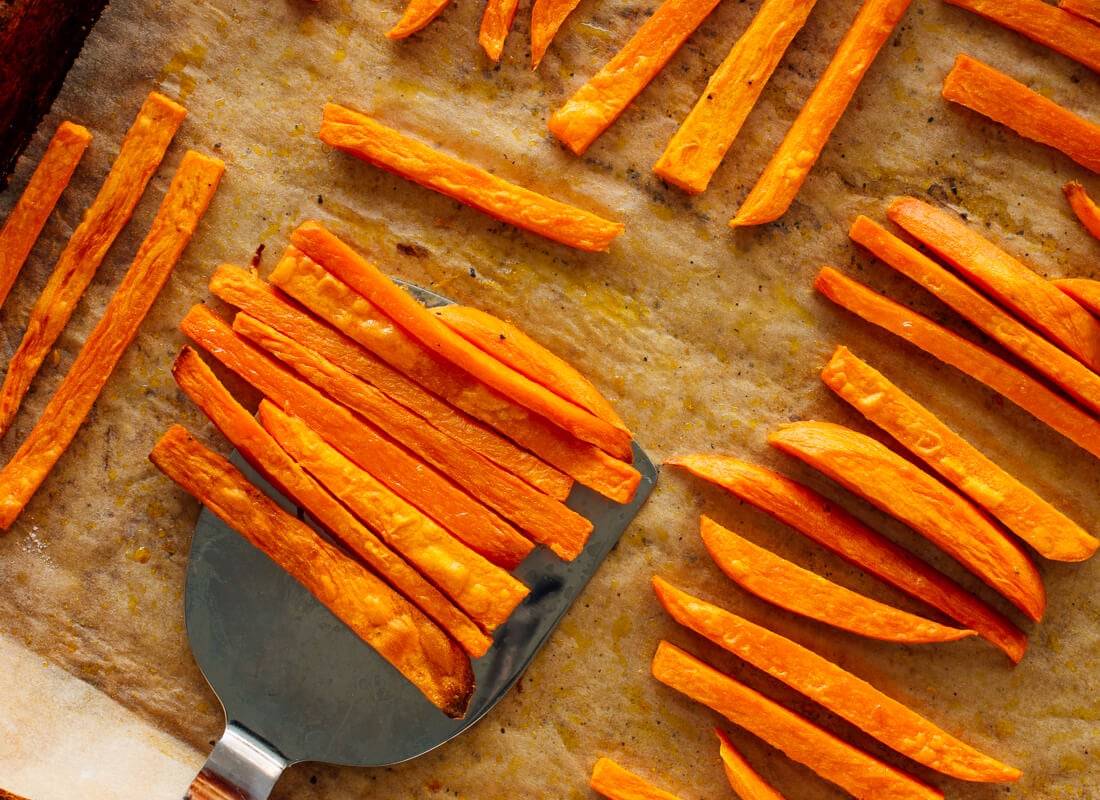 The Great Soaking Debate
I wondered if sweet potato fries would benefit from a soak in water like my do. Those wedges are made with Russet potatoes, and soaking them for 10 minutes in hot water helps release some of the starch in the potatoes and lets them absorb moisture, which leads to ultra-crisp outsides and moist interiors.
So, I tried soaking batches of fries in hot water, and batches in cold water, and baking them with and without cornstarch. You know what? It wasn't worth the effort. Hot water actually seemed to inhibit crispiness. When I compared a batch of cold water and cornstarch fries with un-soaked cornstarch fries, the un-soaked actually fared better.
I hate extra steps as much as you do, so I'm pleased to report that you do need to soak your sweet potato fries for great results!
Sweet Potatoes are Nutritious
Unlike regular deep-fried French fries, these baked sweet potato fries have a lot of redeeming nutrition properties. Standard orange sweet potatoes provide an excellent source of beta-carotene, which your body turns into vitamin A.
Sweet potatoes are also full of antioxidants and fiber, and have some beneficial blood sugar-regulating properties. Plus, they're a very good source of vitamin C, manganese, copper, pantothenic acid and vitamin B6 (). Winning!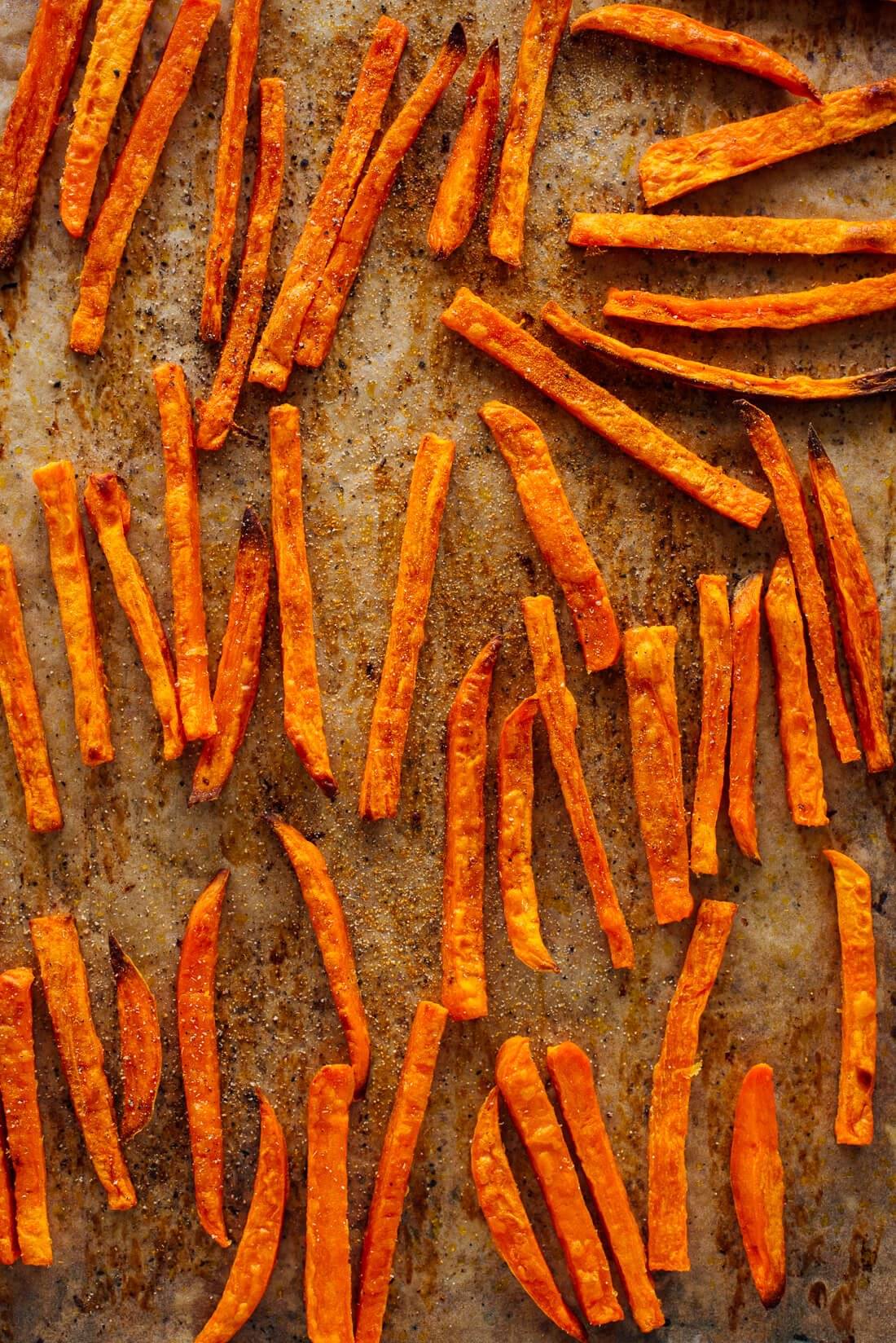 Serving Suggestions
These sweet potato fries would be awesome with my (if you have a copy of my cookbook, , check out the updated version on page 177).I bet they would be nice with  or .I'm happy eating them with just about anything, but they'd be especially fun with Mexican food, like and .
Recommended Equipment
You're going to need some basic equipment to make these fries. Chances are, you already have everything you'll need! These links are affiliate links.
: Essential for safely slicing the fries into thin shapes.: Optional. I always peel my sweet potatoes, but you can leave the skin on if you prefer. Just give your sweet potatoes a good scrub and pat them dry before slicing.: These are large enough to accommodate 1 pound of fries each, and they have rims around the edges so no fries fall off. Half-sheet pans are the professional standard—all legit chefs and recipe writers use these when they create recipes, so if your baked recipes don't turn out right, it might be your pan!: I recommend lining your pans with parchment paper so the fries don't get stuck to the pan (there go your crispy edges).
Watch How to Make Sweet Potato Fries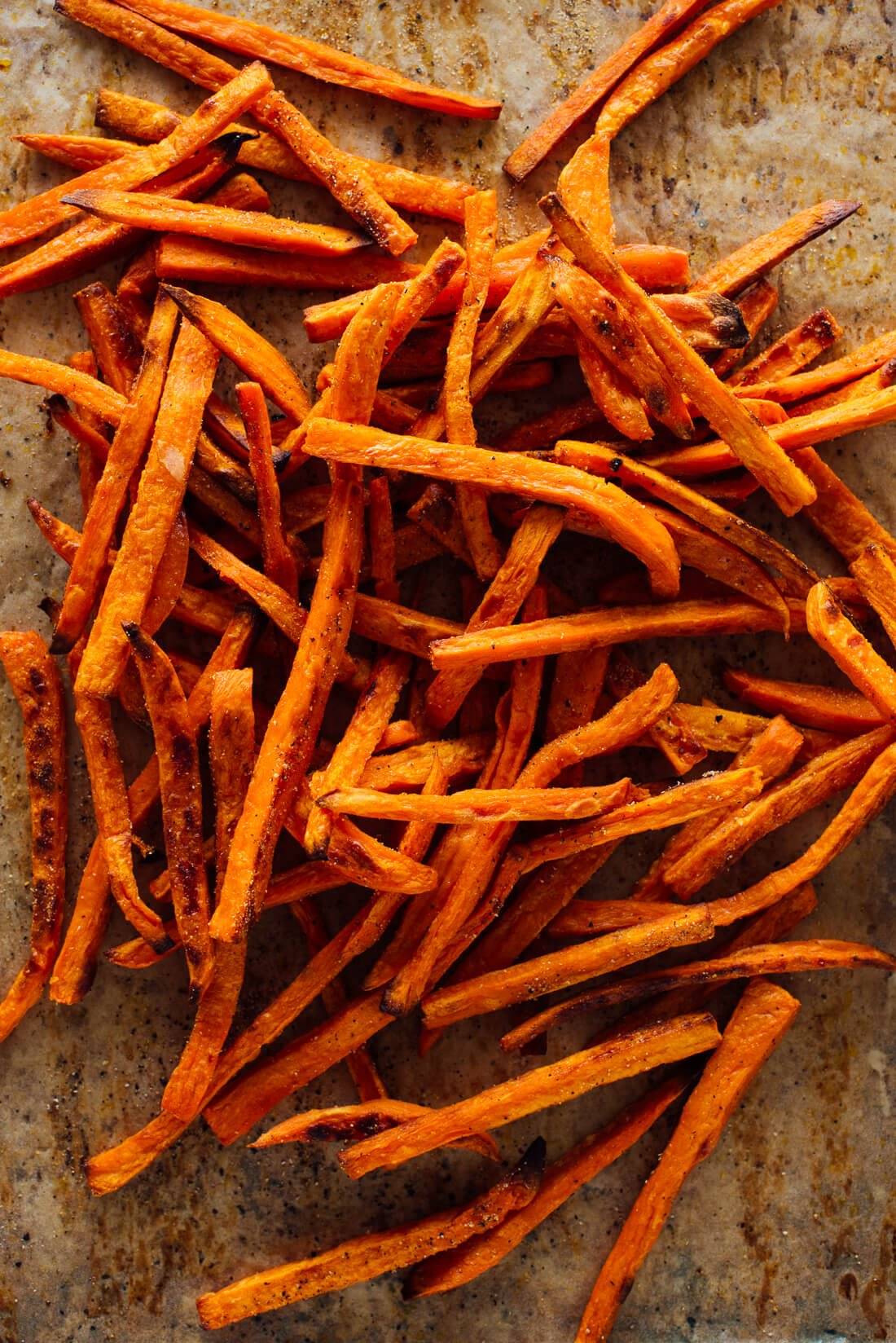 Please let me know how these sweet potato fries turn out for you in the comments! I'm obsessed with them and hope you are, too.
Craving more crispy and salt snacks? You do not want to miss my !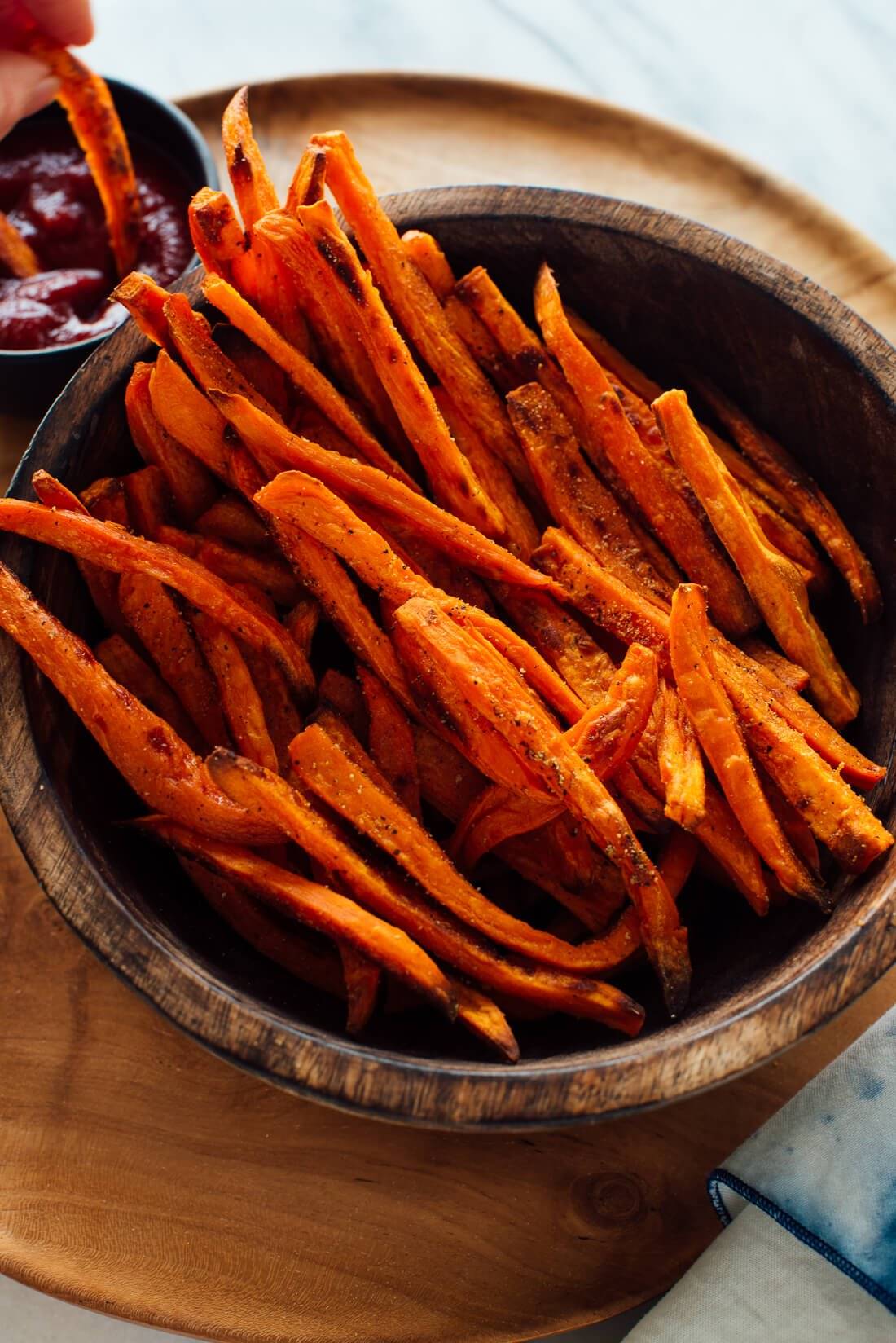 Crispy Baked Sweet Potato Fries
Author: Cookie and Kate Prep Time: 10 mins Cook Time: 35 mins Total Time: 45 minutes Yield: 4 servings 1x Category: Side dish, snack Method: Baked Cuisine: American
★ ★ ★ ★ ★
4.1 from 337 reviews
Learn how to make crispy, oven baked sweet potato fries! Tossed with olive oil and sea salt, sweet potato fries are an easy and healthy homemade snack or side dish. Recipe yields 4 side servings.
Ingredients
2
pounds sweet potatoes (about
2
medium-large or
3
medium)
1 tablespoon
cornstarch
½ teaspoon
fine sea salt
2 tablespoons
extra-virgin olive oilOptional spices: freshly ground black pepper, cayenne pepper and/or garlic powder
Instructions
Preheat the oven to 425 degrees Fahrenheit with racks in the lower and upper thirds of the oven (make sure the top rack is about 6″ from the heat source and no closer). Line two large, rimmed baking sheets with parchment paper so the fries don't get stuck to the pans.
Peel the sweet potatoes and cut them into fry-shaped pieces about ¼″ wide and ¼″ thick. Try to cut them into similarly sized pieces so the fries will bake evenly. Transfer half of the uncooked fries to one baking sheet, and the other half to the other baking sheet.
Sprinkle the sweet potato fries with the cornstarch (use 1 ½ teaspoons per pan) and salt (¼ teaspoon per pan). Toss until the fries are lightly coated in powder. Drizzle the olive oil over the fries (1 tablespoon per pan) and toss until the fries are lightly and evenly coated in oil, and no powdery spots remain (use your fingers to rub visible cornstarch into the fries as necessary).
Arrange your fries in a single layer and don't overcrowd; otherwise they will never crisp up. Bake for 20 minutes, then flip the fries so they can cook on all sides. (The easiest way to flip them is with a metal spatula. Section by section, scoop up about ten fries and flip them with a quick turn of the wrist.)
Arrange the fries in even layers across the pans again, moving any particularly browned fries more toward the middle of the pan so they don't get overcooked. Return the pans to the oven, swapping their positions (former top pan goes to the lower rack and vice versa).
Bake for 10 to 18 more minutes, or until the fries are crispy. You'll know they're almost done when the surface of the fries change from shiny orange to a more matte, puffed up texture. Keep an eye on them, as they can turn from crisp to burnt quickly. Sometimes the lower pan will be done a few minutes before the top pan. Don't worry if the edges are a little bit brown; they will taste more caramelized than burnt.
If desired, toss the baked fries with seasonings, to taste. I like to use lots of freshly ground black pepper, and a scant ¼ teaspoon each cayenne pepper and garlic powder. Serve warm!