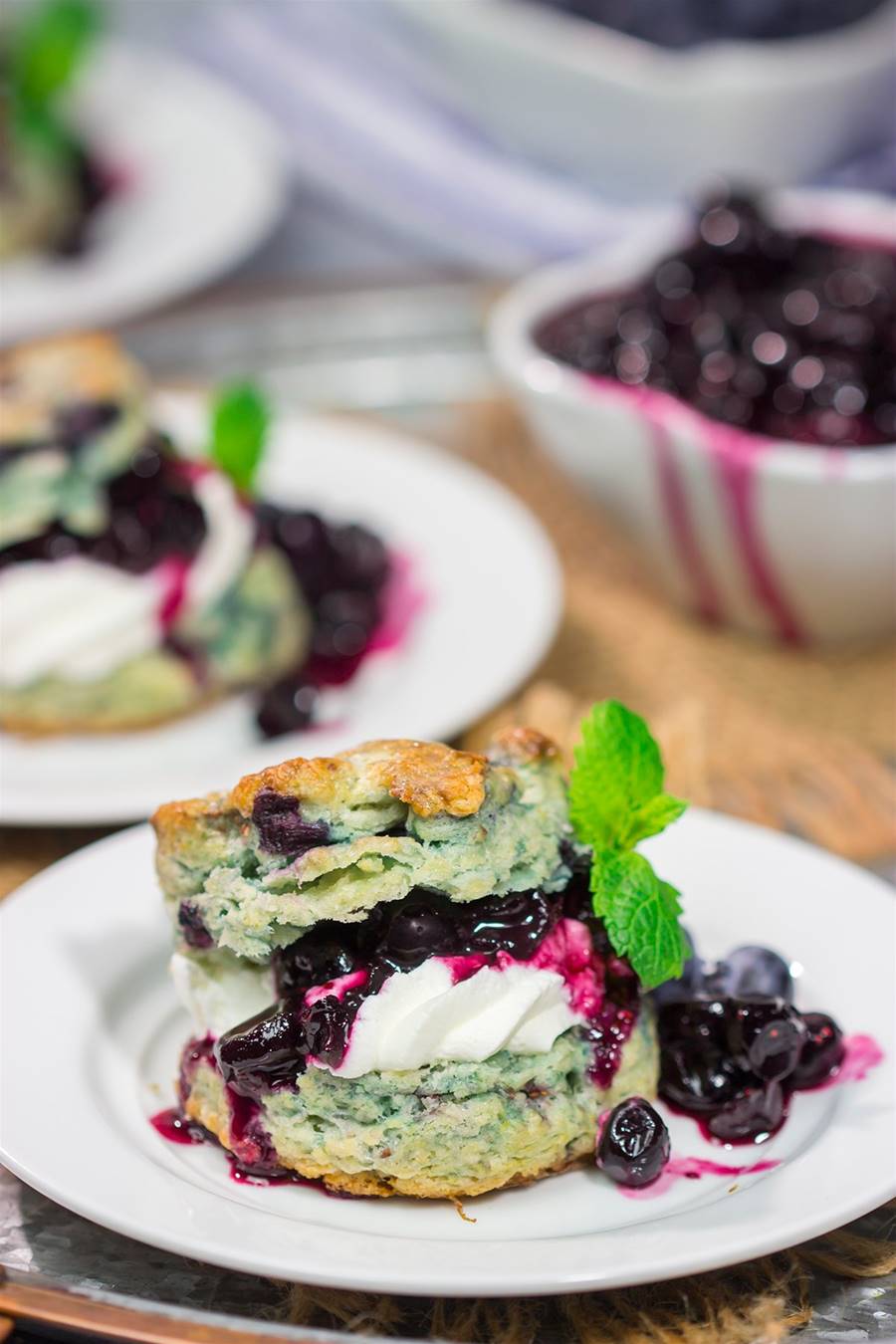 Strawberry shortcakes may be more popular, but this blueberry version deserves some attention in the spotlight, too! By definition, a shortcake is either a sweet cake or a crumbly biscuit (the American kind). They are typically split or sliced in half and filled with whipped cream and fresh berries. Just let that sink in – crispy, crumbly, buttery biscuits filled with whipped cream and berries. Yes, please!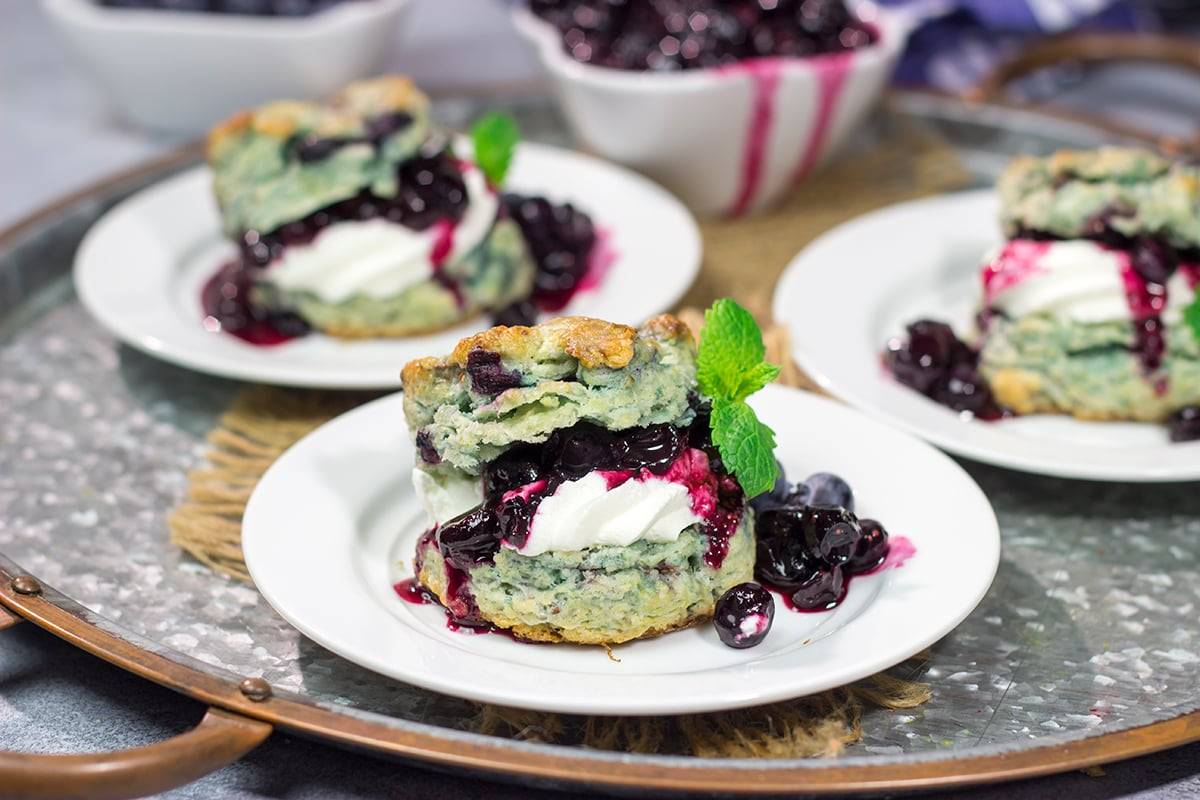 A shortcake actually has nothing to do with its height. Instead, the term comes from the old English cooking term "short" which meant adding fat to create a crispy treat. In this case, the fat is butter. The base of these Blueberry Shortcakes is a crispy, crumbly buttermilk biscuit. These biscuits are tasty enough to eat by themselves! (In fact, there was a misshapen biscuit that disappeared after it came out of the oven. Oops.)
Blueberry Shortcakes
While these biscuits are mighty tasty by themselves, the shining star here is the addition of an easy blueberry sauce. This sauce only takes a couple minutes to make, and it's great for all sorts of things. We spooned some leftover sauce over French vanilla ice cream – holy cow! And then Laura stirred some into plain Greek yogurt for a healthy (and easy) lunch.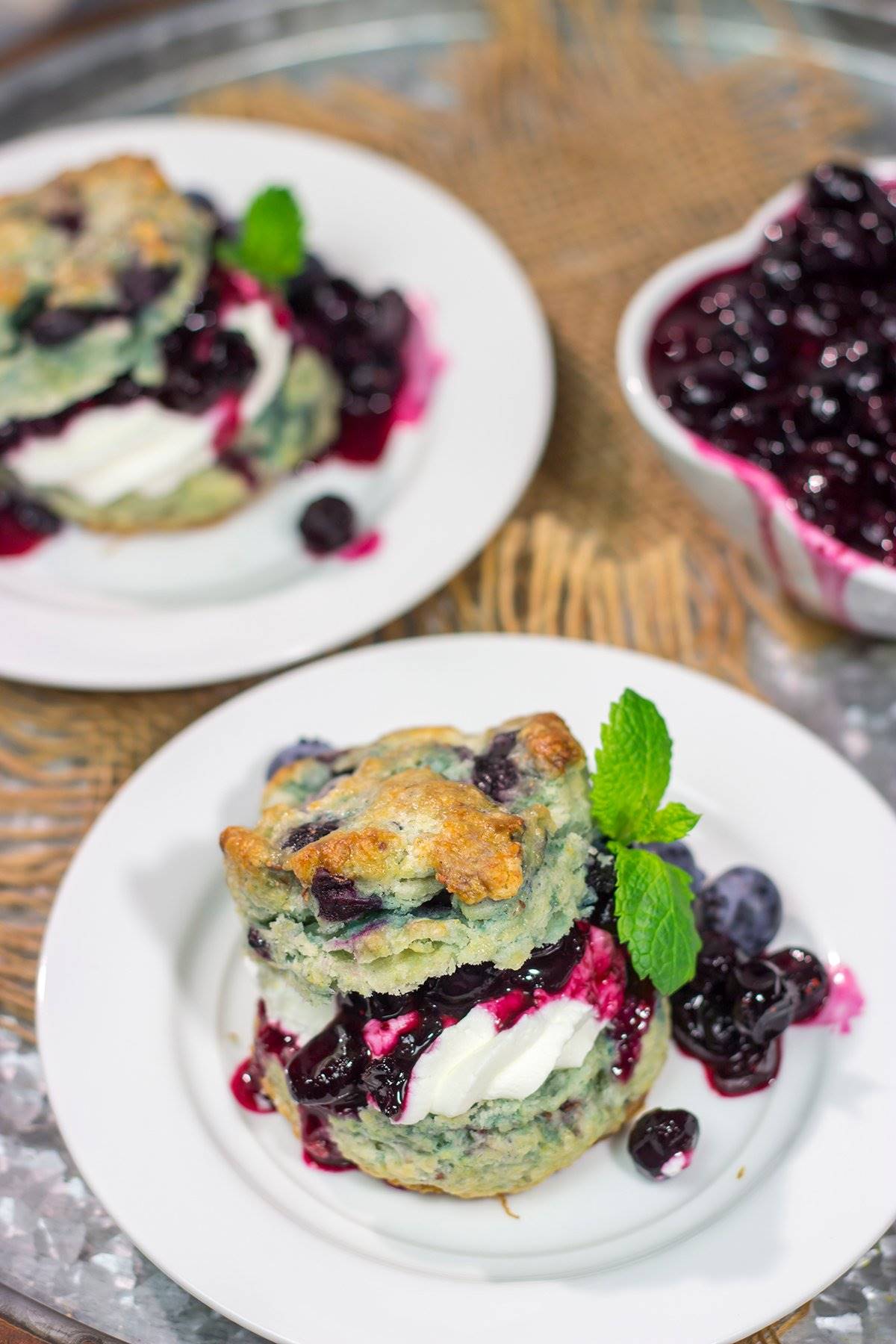 This sauce relies on fresh blueberries that get cooked for a short amount of time in a saucepan. The blueberries release juice which is thickened thanks to a bit of cornstarch. Easy, delicious blueberry sauce!
How to reheat Blueberry Shortcakes
This recipe will make ~12 biscuits. If you're serving a large group (or a very hungry group), then leftovers won't be a problem. However, if you do have leftovers, they are very easy to reheat. I recommend filling the shortcakes with sauce and whipped cream as you serve them. Once the sauce and whipped cream get added, it will be much harder to store and reheat any leftovers.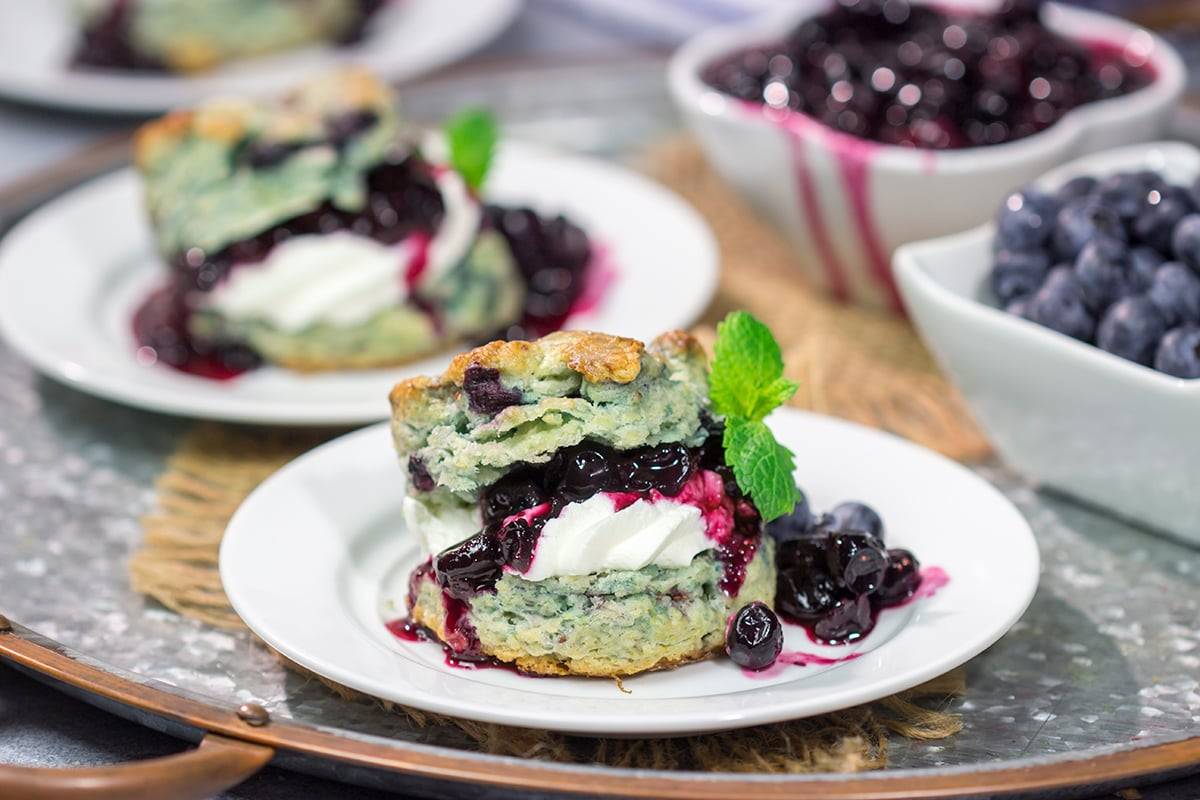 For leftovers, just store the biscuits at room temperature in an airtight container. (Any extra whipped cream and blueberry sauce should be stored in the refrigerator.) Then reheat the biscuits in a toaster oven for a couple of minutes until the tops are lightly crispy. Split and fill with whipped cream and blueberry sauce, and you're all set!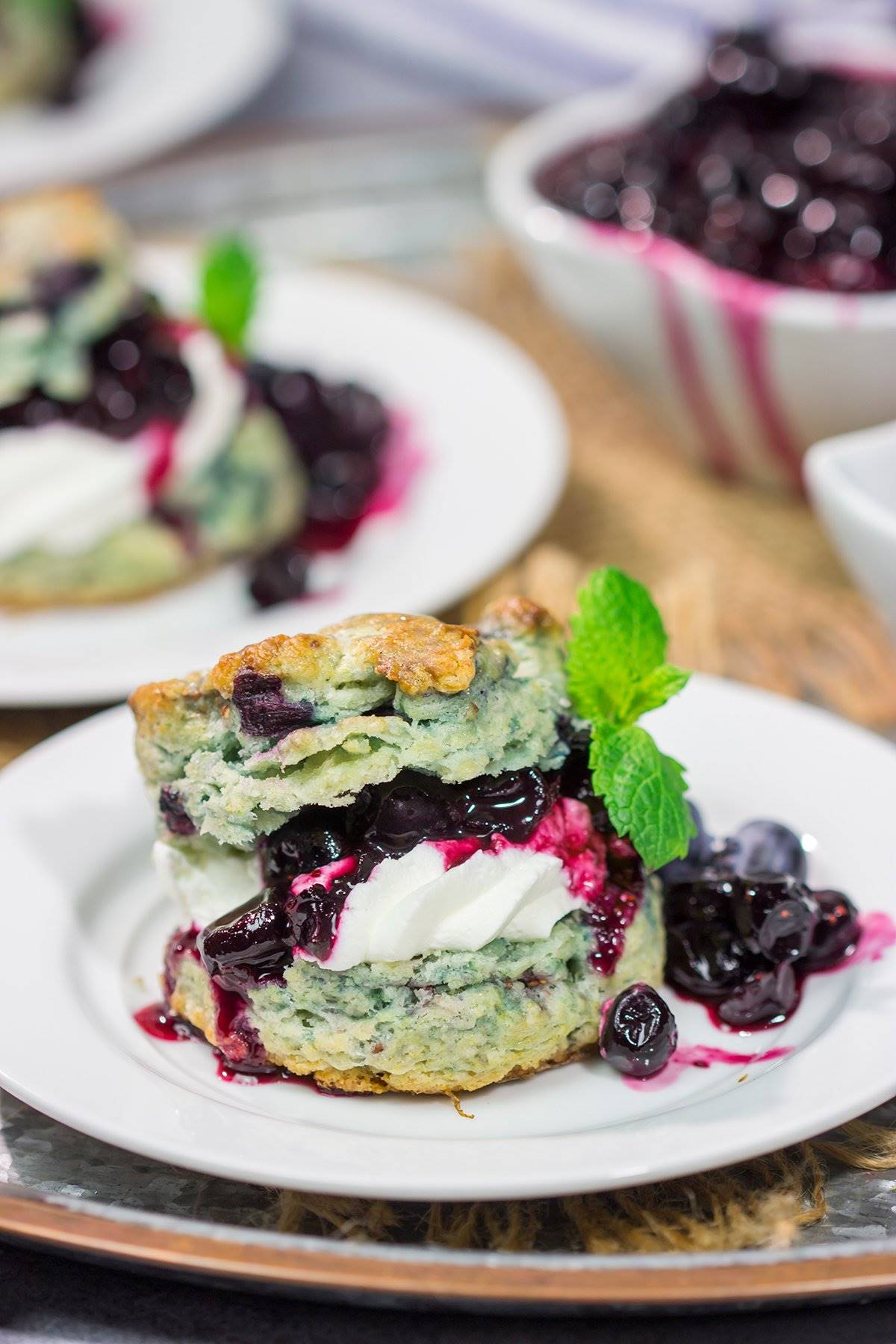 Take advantage of fresh blueberry season by making a batch of these Blueberry Shortcakes! Oh, and this recipe can easily be made with frozen blueberries. In fact, we usually save the fresh blueberries for eating plain and then make this recipe with frozen berries. Either way, I hope you get a chance to make these shortcakes. They're delicious! Happy Baking!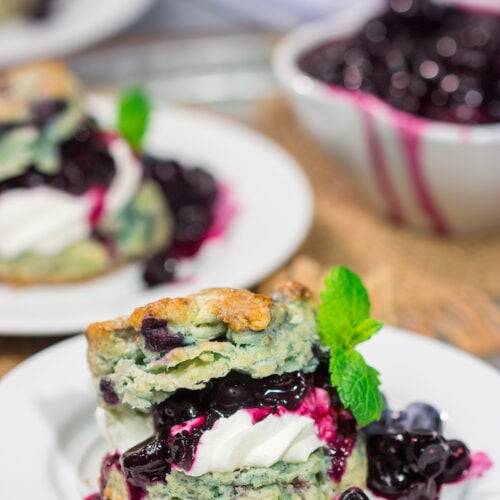 Blueberry Shortcakes
These Blueberry Shortcakes feature buttery biscuits filled with whipped cream and blueberry sauce. This recipe is great for summer brunch or dessert!
5 from 2 votes
Prep Time: 50 minutes minutes
Cook Time: 20 minutes minutes
Total Time: 1 hour hour 10 minutes minutes
Servings: 12 servings
Calories: 306 kcal
Ingredients
For the Blueberry Sauce
3
Tbsp
water
4
tsp
cornstarch
⅓
cup
sugar
½
tsp
vanilla extract
pinch
ground cinnamon
2½
cups
blueberries
fresh or frozen and thawed
For the Shortcakes
2¾
cups
all-purpose flour
1
Tbsp
granulated sugar
2
tsp
salt
2½
tsp
baking powder
½
tsp
baking soda
1
cup
cold unsalted butter
¾
cup
buttermilk
¾
cup
blueberries
fresh or frozen and thawed
1
large egg
Fresh whipped cream
for serving
Instructions
For the Blueberry Sauce
Using a small bowl, whisk together the water and cornstarch. Pour this mixture into a small saucepan along with sugar, vanilla and cinnamon; stir until well combined. (Note: If using fresh blueberries, increase amount of water to ⅓ cup.)
Place medium saucepan over medium-high heat and bring mixture to a boil, stirring often.
Let boil for 1 minute, stirring constantly.
Add blueberries and stir until well combined. Continue cooking for 1 more minutes, stirring constantly.
Remove saucepan from heat and let cool completely.