Banana Pound Cake with Peanut Butter Frosting
It is well known that Elvis preferred his peanut butter sandwich with an unusual ingredient – mashed up bananas. He also preferred for his bread to be pan-fried until golden brown. I might not agree with Elvis on the sandwich front, but I do agree with him on the dessert front. That combination of mashed up bananas and peanut butter is fan-freakin'-tastic! A slice of this cake will leave you all shook up. (Sorry, I couldn't resist the temptation there!)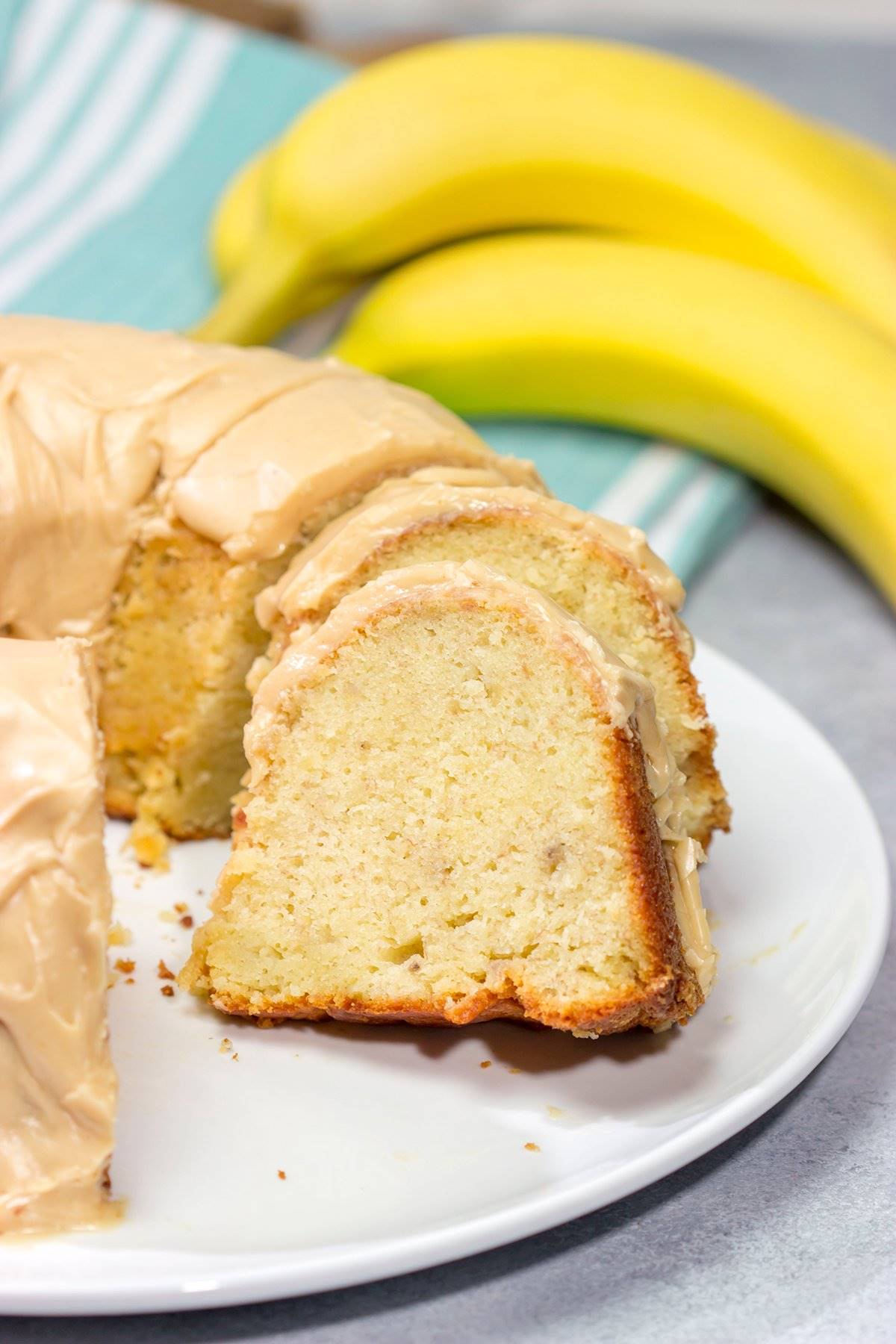 The pound cake portion of this dessert is something of a cross between banana bread and a classic sour cream pound cake. I started with my go-to and merged it with my . The result was this tasty cake. Pound cakes are dense. In fact, that's one of their signature characteristics. This pound cake was denser than banana bread, but not as dense as a classic pound cake. It landed somewhere in between, and it was delicious!
I could see serving a slice of this pound cake by itself for breakfast, or perhaps with a mid-morning cup of tea or dessert. It's a workhorse of a recipe – it can literally be eaten at any point during the day!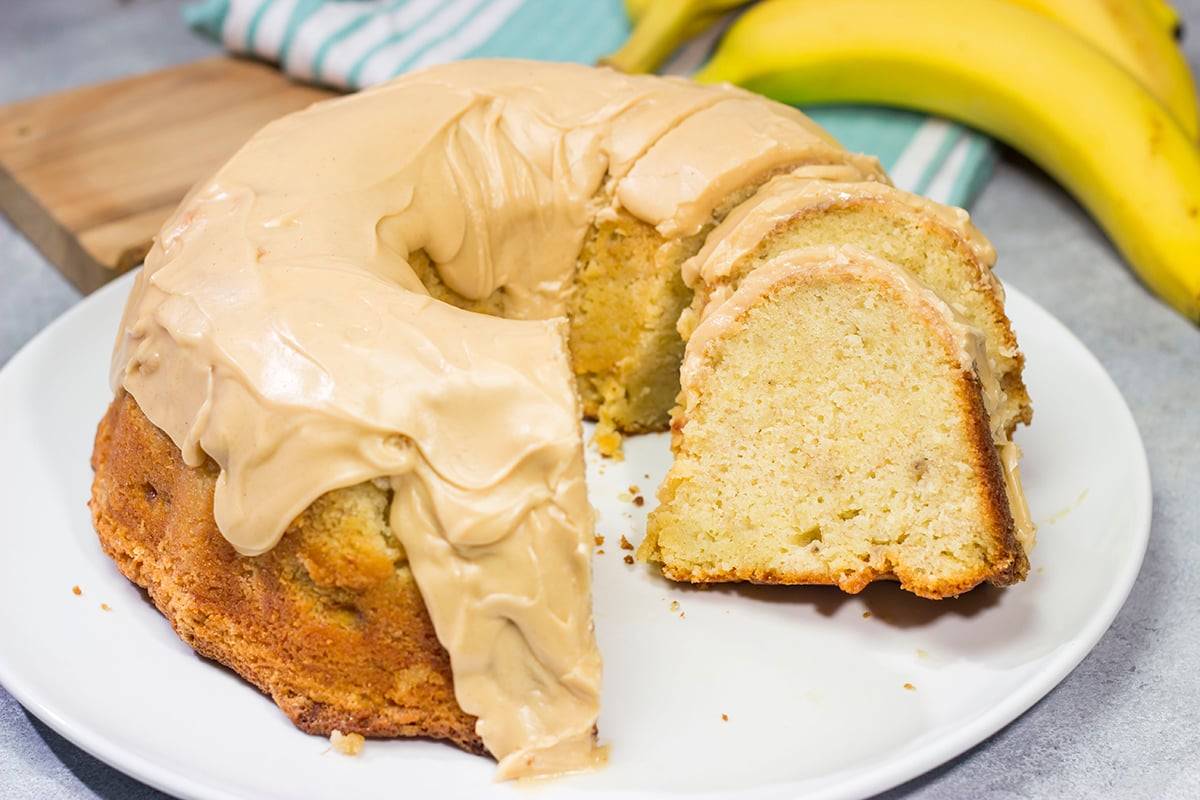 But we're not stopping with the banana pound cake. We're going the full nine yards and adding a peanut butter frosting on top. Elvis would be so proud.
This peanut butter frosting is amazing. I literally could've eaten it by the spoonful. Fortunately (or unfortunately?) eating spoonfuls of frosting is somewhat socially unacceptable. So I decided to do the next best thing. I spread that peanut butter frosting on top of the cake. The combination was greater than the sum of the individual parts…and the individual parts were both delicious in their own right!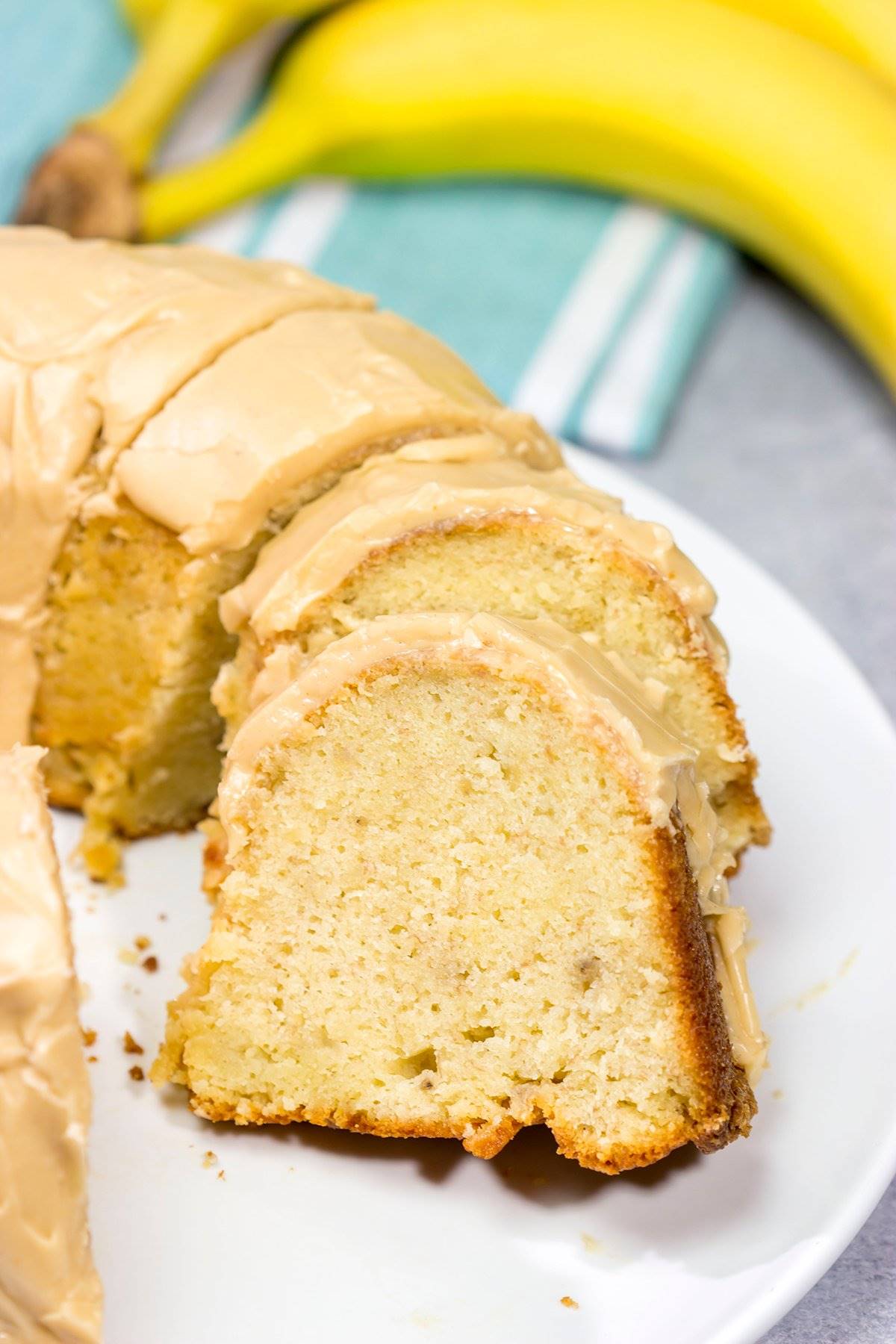 If you're looking for a delicious and unique recipe idea, then put this cake on the list. And while you're at it, go ahead and crank up the Elvis tunes in the kitchen while you're baking! Enjoy!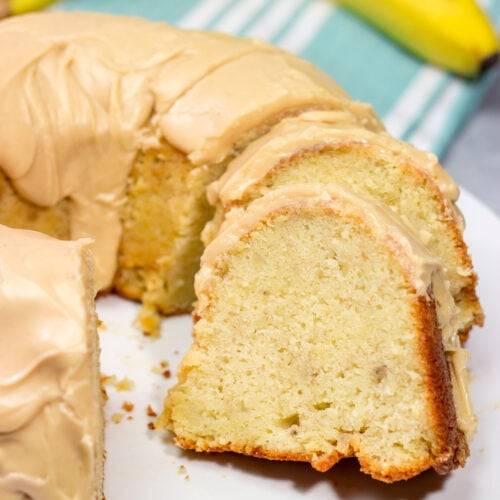 Banana Pound Cake with Peanut Butter Frosting
This Banana Pound Cake with Peanut Butter Frosting features a divine banana bread pound cake topped with a delicious peanut butter frosting. I think Elvis would've approved!
5 from 3 votes
Prep Time: 30 minutes minutes
Cook Time: 1 hour hour 20 minutes minutes
Total Time: 1 hour hour 50 minutes minutes
Servings: 16 servings
Calories: 469 kcal
Ingredients
For the Banana Pound Cake
1
cup
room temperature
3
cups
6
room temperature
2
medium overripe bananas
mashed
2
tsp
½
tsp
½
tsp
½
tsp
3
cups
1
cup
For the Peanut Butter Frosting
1½
cups
confectioner's sugar
¼
cup
¼
cup
½
tsp
Instructions
For the Banana Pound Cake
Preheat oven to 325°F.
Using an electric mixer, cream butter and sugar together until light and fluffy (3-4 minutes on medium speed).
Add eggs two at a time, mixing well after each addition.
Add mashed bananas, vanilla extract and lemon juice; mix until well combined.
Add salt, baking soda and half of the flour to the bowl; mix until well combined.
Add sour cream; mix until well combined.
Add remaining flour; mix until well combined.
Scrape sides and bottom of bowl to ensure batter is well combined.
Grease and flour a 10-12 cup Bundt pan (or generously spray with baking spray and then lightly dust with flour). Transfer batter into pan.
Bake for 60 minutes. Tent the top of the cake with foil (to prevent it from burning) and continue baking for 20-25 minutes, or until a toothpick inserted into the center of the cake comes out mostly clean.
Let cool in pan for 10 minutes before inverting onto a wire baking rack to cool completely.
For the Peanut Butter Frosting
Using a medium bowl, whisk together all ingredients until smooth.
Drizzle glaze over the cooled cake. Let glaze set (~1 hour) before slicing and serving.