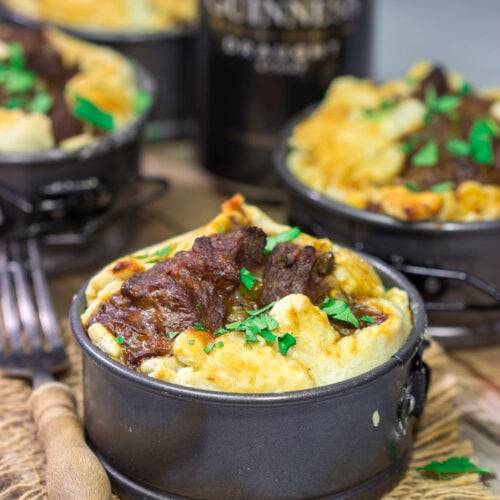 Individual Beef and Guinness Pot Pies
Featuring a flaky pie crust filled with chunks of beef simmered in stout beer, these Individual Beef and Guinness Pot Pies are a tasty winter comfort food!
5 from 6 votes
Prep Time: 30 minutes minutes
Cook Time: 2 hours hours 15 minutes minutes
Chilling Time: 2 hours hours
Total Time: 4 hours hours 45 minutes minutes
Servings: 4 servings
Calories: 706 kcal
Ingredients
For the Dough
2
cups
¾
cup
cut into cubes
¾
tsp
1
large egg yolk
2
Tbsp
water
For the Filling
⅓
cup
3
tsp
divided
1½
tsp
divided
½
tsp
2
pound
boneless beef chuck roast
cut into 1" pieces
2
Tbsp
1
diced
2
tsp
3
diced
2
peeled and diced
3
Tbsp
1
cup
1
cup
Guinness or another Irish stout
1
Tbsp
1
cup
½
tsp
1
tsp
For the Pot Pies
1
lightly beaten
Instructions
For the Dough
Grease and flour (4) mini pie pans, each one measuring ~4"x2". (Note: These mini springform pans work perfectly for this recipe.) Place pans on a foil-lined baking pan; set pan aside.
Using a food processor, add the flour, butter and salt. Pulse several times until a crumbly mixture forms.
Add egg yolk and 2-3 Tbsp of water; pulse until dough comes together in a ball.
Divide dough into 4 equal pieces. Flatten each piece into a disc and wrap with plastic wrap. Refrigerate dough for at least 1 hour. (Note: Dough can be made the day before and refrigerated overnight.)
For the Filling
Using a large bowl, whisk together the flour, 2 tsp salt, 1 tsp pepper and cumin until well combined.
Add cubed beef to the bowl and toss until well coated.
Using a large heavy-bottomed pot with a lid, add the oil and place over medium-high heat. Add half of the flour-coated beef and cook until browned on all sides (~7-8 minutes total). Transfer beef into a large bowl and repeat with the remaining beef.
Transfer 2nd batch of beef into bowl.
Using the same pot, reduce heat to medium and add the onions, garlic, celery, carrots remaining 1 tsp salt andremaining ½ tsp pepper.
Sauté, stirring occasionally, for 4-5 minutes, or until onions and celery have softened.
Add the tomato paste and stir until well combined; continuecooking for 1-2 more minutes.
Add the beef(and any juices in bowl), beef broth, Guinness, peas, Worcestershire sauce, paprika and thyme; stir until well combined and bring to a boil over high heat.
Once boiling, cover and reduce heat to low; simmer for 1-1½ hours, or until beef is tender.
Remove from heat and let cool for ~30 minutes.
For the Pot Pies
Preheat oven to 350°F.
Working on a lightly floured surface, roll each piece of dough into an 8" circle. Press one piece of dough into each of the 4 prepared pans.
Divide beef filling evenly into 4 pans. Fold excess dough over top, but do not seal. Brush tops of dough with the beaten egg.
Bake for 30-35 minutes, or until tops of pies are golden brown.
Let pies cool for 10-15 minutes before serving.
Notes
Notes: You will likely have extra beef filling that will not fit into the pie shells – just save the filling and eat it separately for lunch the following day!