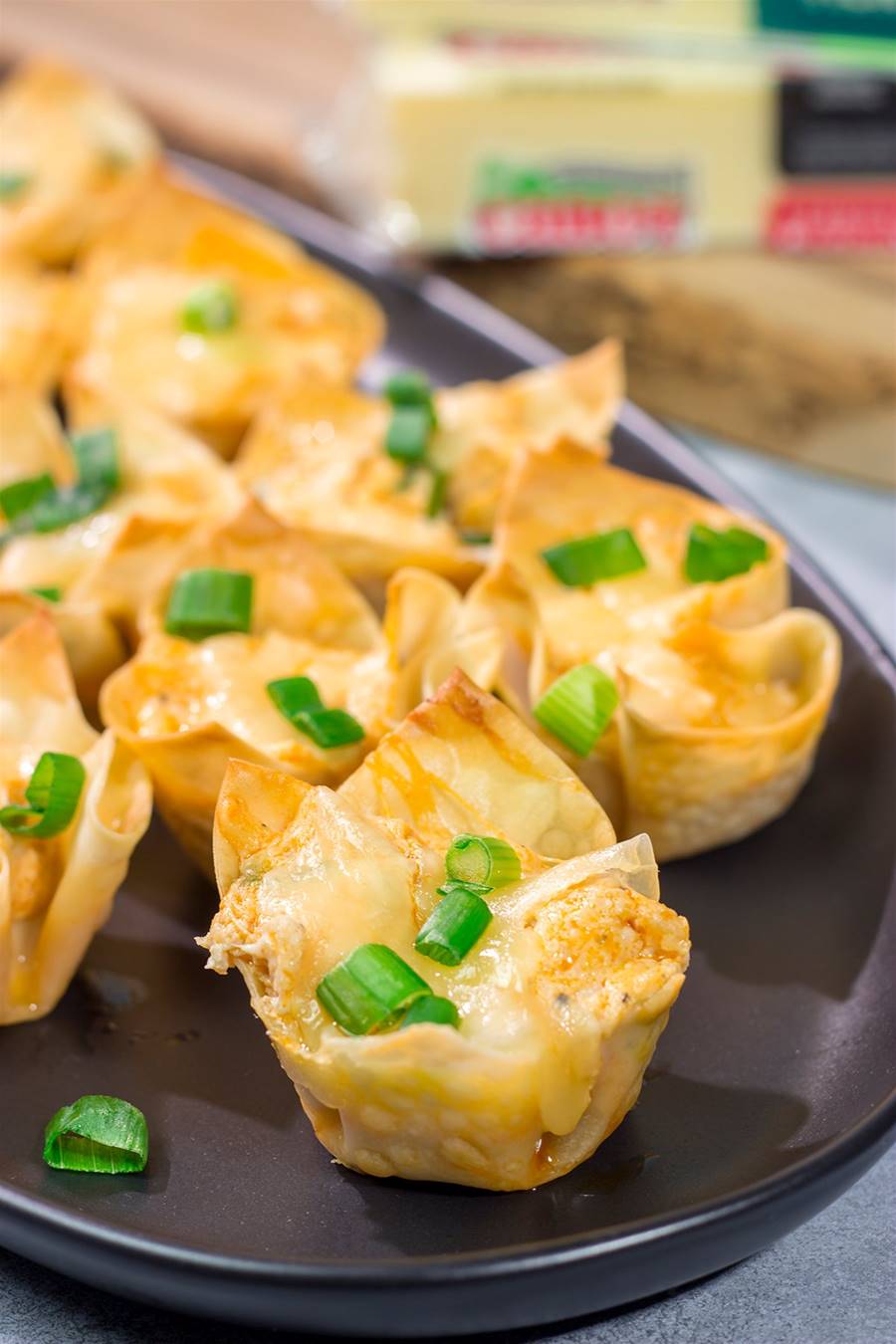 Buffalo chicken dip is just not safe around our house. In truth, anything buffalo'd is not safe in our house – but buffalo chicken dip is in a category by itself. Our go-to buffalo chicken dip recipe often appears when we're entertaining friends or watching games, and it's always a huge hit. Leftovers? What are those!?
The other day, I was sitting around thinking about buffalo chicken. I wanted to make buffalo chicken dip, but I wanted to serve it in a different way. That's when it hit me. Wonton cups. Crispy little cups filled with creamy, mouthwatering buffalo chicken dip. Yum!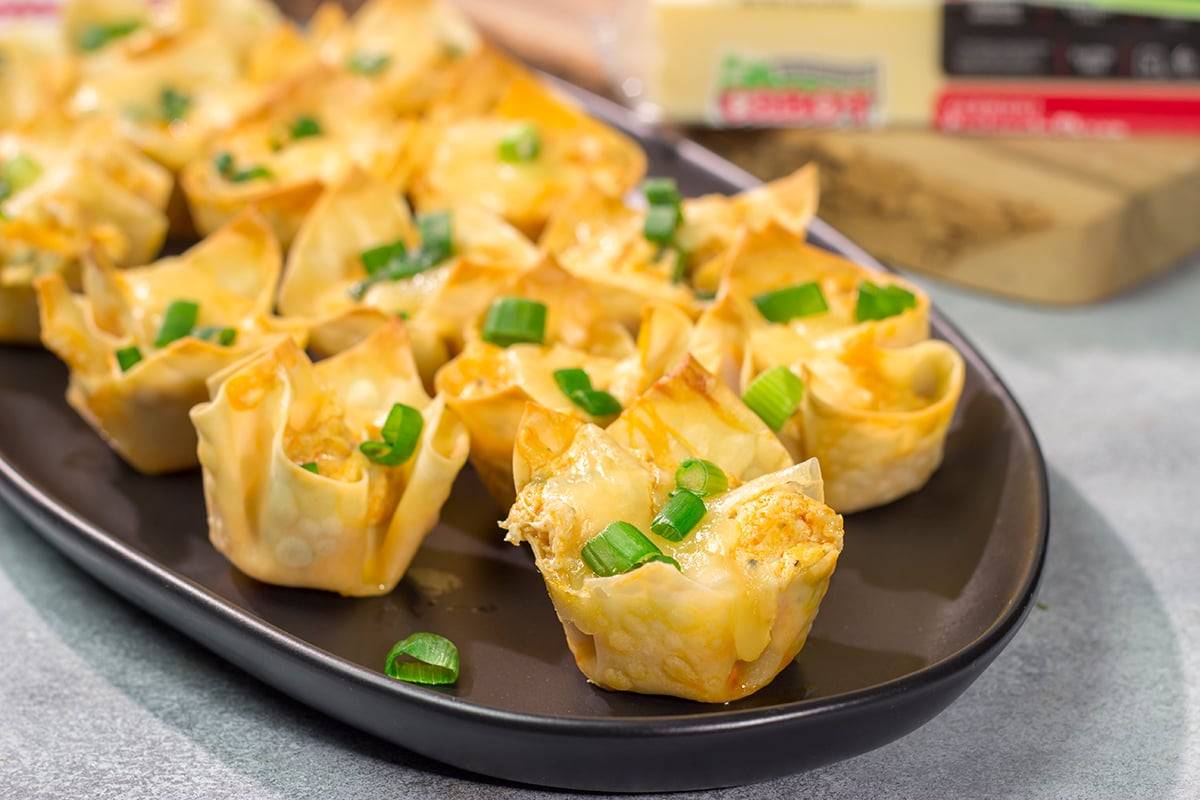 Buffalo Chicken Wonton Cups
These Buffalo Chicken Wonton Cups taste just like buffalo chicken wings…but in a much easier to eat form! We do love buffalo wings around here, but they're messy to eat. Take those same flavors, put 'em in a dip and then serve 'em in bite-sized cups? Now that's the kind of party appetizer I'm talking about!
If you ranked all of the appetizers in the world in one giant list, I suspect buffalo chicken dip would land somewhere near the top. It's easy to make, and it's always a crowd-pleaser! Well, we're taking that one step further today by serving that dip in crispy wonton cups. These mini-cups are perfect finger food size.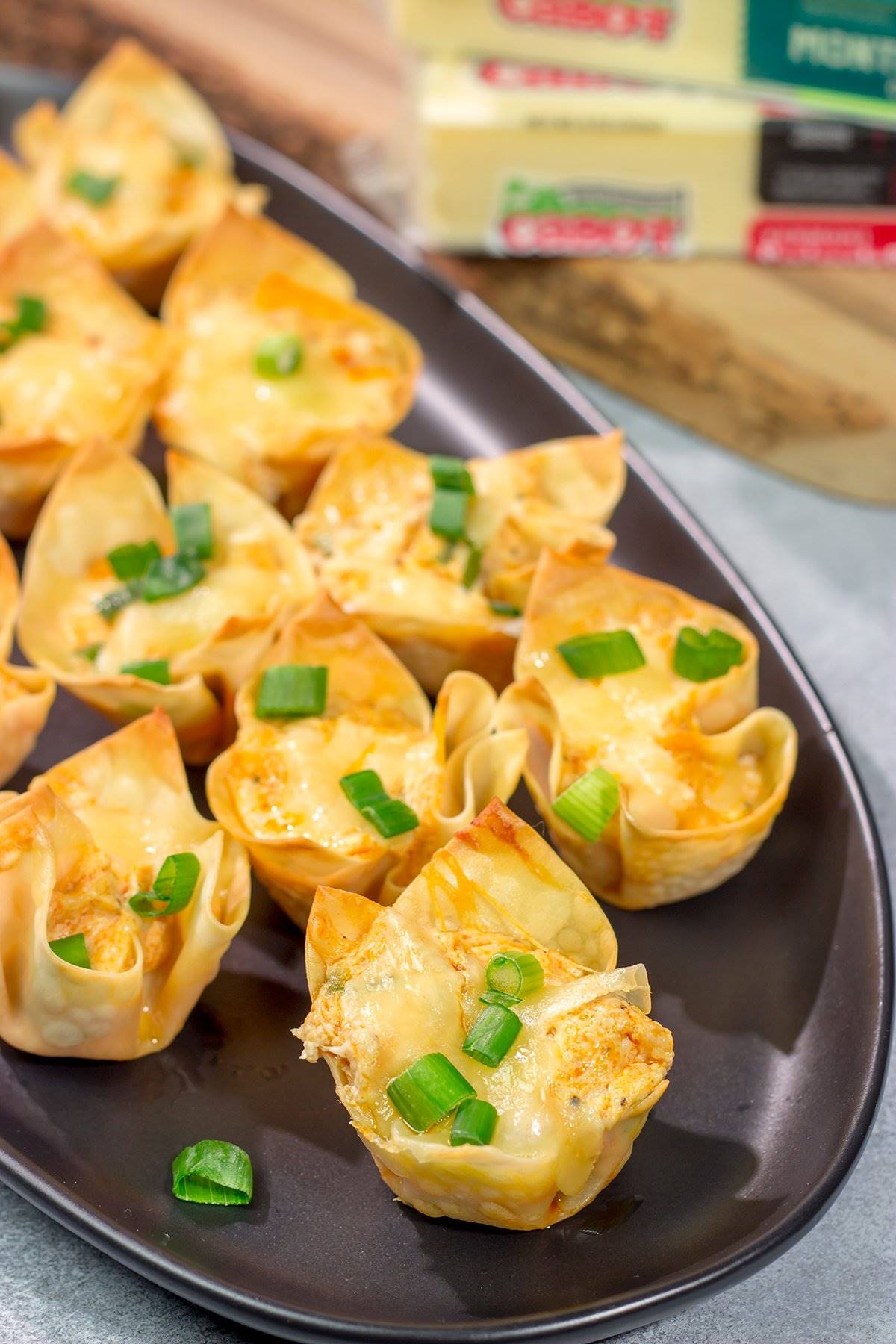 What is Buffalo Chicken Dip?
Buffalo chicken dip is incredibly easy to make. The main ingredients are:
Cream CheeseRanch Dressing – Hot Pepper Sauce or Buffalo SauceChicken – Cheese – I always use a combination of sharp cheddar cheese and Monterey Jack cheese. The sharp cheddar adds while the Monterey Jack brings the creamy texture that is perfect for dips. I often toss a handful of blue cheese into the dip as well.
That's it. Put everything in a saucepan and heat it up until it's hot. It's amazing how something so incredibly easy can be so delicious at the same time!
Wonton Cups
Wonton Cups are also very easy to make. Grab a pack of wonton wrappers – they're usually in the produce section at most grocery stores. Using a mini-muffin pan, push one wrapper into each cup. Bake 'em for about 8-10 minutes, and you're all set. They're a fun way to serve your favorite dips!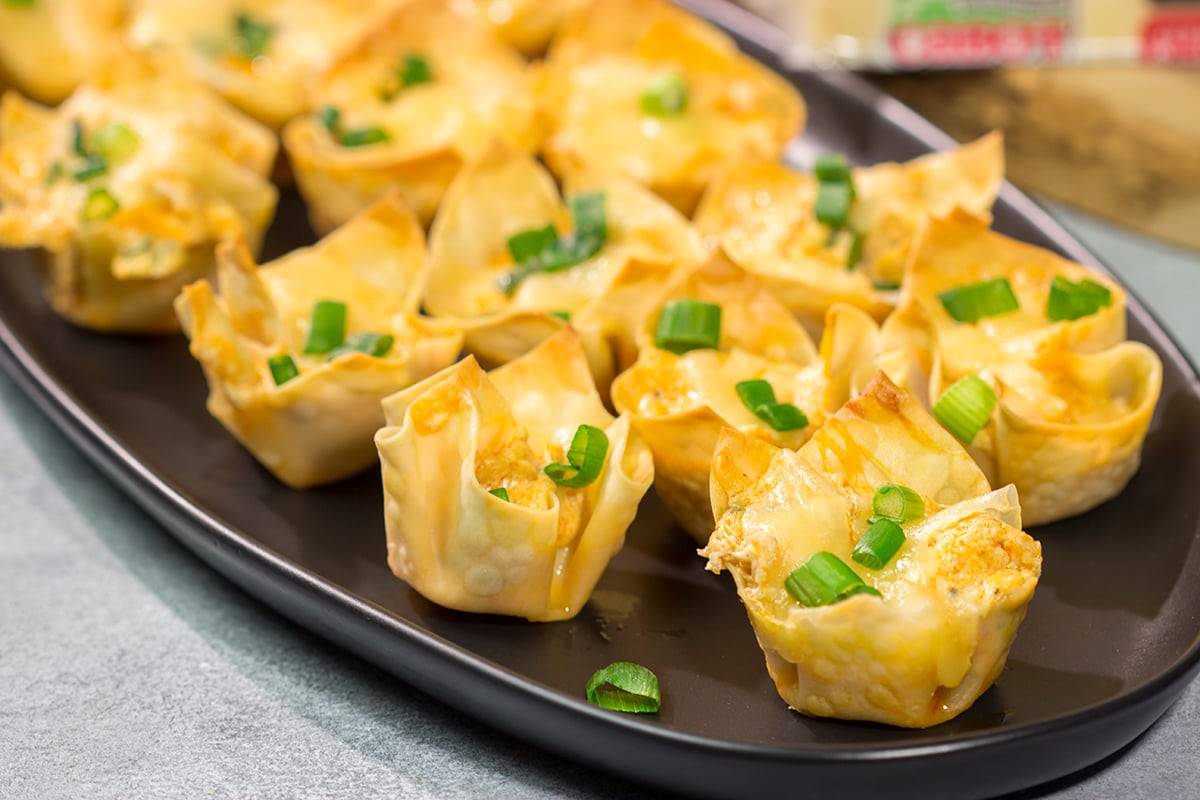 Whenever it comes to cheese, I always use . Their cheddar cheeses are absolutely fantastic! Some varieties are milder while others bring a more intense sharpness, but they're all delicious. Cabot's products are made from milk produced on family farms in New York and New England – in fact, Cabot is owned by those very same farmers!
When we lived in New York, I occasionally took my son over to visit one of the nearby Cabot farms. He loved seeing (and feeding) the cows, and he still talks about his 'favorite cow.' ()
Even though we now live in Asheville, NC, I can still find Cabot cheeses in our local stores here. And every time I see a block of Cabot cheese, I think about Cupcake the Cow and how she loved to eat apples whole. Moo!
For these Buffalo Chicken Wonton Cups, I used an equal mixture of and Cabot's Monterey Jack cheese. Whether I'm cooking with it or just eating slices on crackers, Seriously Sharp is my #1 go-to cheddar cheese. The bold sharp flavor in this cheese is absolutely delicious.
While Seriously Sharp brings the intense cheddar flavor, Cabot's Monterey Jack brings the creamy texture. This milder cheese is tasty in its own right (try mixing it with scrambled eggs!), but it pairs incredibly well with Seriously Sharp. Seriously Sharp and Monterey Jack together are basically the Batman and Robin of the cheese world –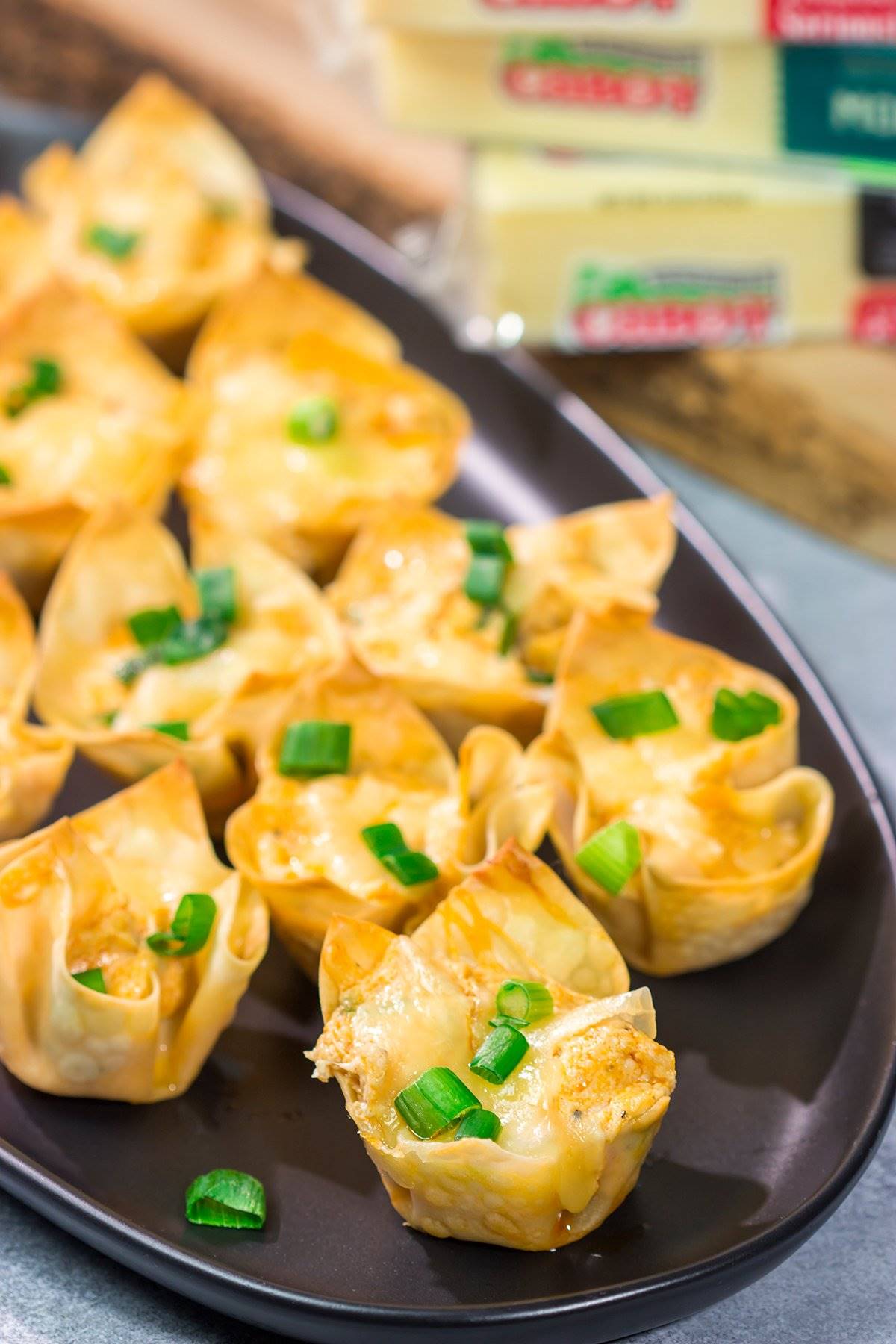 If you're looking for a delicious game day snack or an easy appetizer to serve when friends stop by, then put these Buffalo Chicken Wonton Cups on the list. They feature all of the delicious flavors of buffalo wings…just in bite-sized form! Cheers!
Buffalo Chicken Wonton Cups
These Buffalo Chicken Wonton Cups feature creamy, mouthwatering buffalo chicken dip…in a bite-sized form!
5 from 4 votes
Servings: 36 wonton cups
Calories: 87 kcal
Ingredients
36 wonton wrappers 8 oz. cubed 1 cup ranch dressing ¾ cup hot pepper sauce can use buffalo wing sauce 1 tsp 1 tsp 2 10-oz. cans chunk chicken, drained ½ cup blue cheese crumbles ½ cup plus more for garnishing 1½ cups shredded Cabot Monterey Jack cheese divided 1½ cups shredded Cabot Seriously Sharp Cheddar cheese divided
Instructions
Preheat oven to 350°F.
Spray a mini muffin tin with nonstick cooking spray.
Press the wonton wrappers into the mini muffin cups. Bake for 8-9 minutes, or until tops are lightly golden brown. Set pans on wire racks to cool.
Meanwhile, using a medium saucepan, add the cream cheese, ranch dressing, hot sauce, black pepper and garlic powder. Place over medium heat, whisking often, until cream cheese has melted and mixture is smooth.
Remove saucepan from heat and add chicken, blue cheese, green onions, 1 cup of Monterey Jack cheese and 1 cup of cheddar cheese; mix until well combined.
Spoon chicken mixture into each wonton cup. Sprinkle remaining Monterey Jack and cheddar cheeses on top.
Bake for 4-6 more minutes, or until cheeses on top have melted.
Garnish with additional chopped green onions before serving. Serve warm.