No matter how you spell it, Shoofly Pie is a delicious treat! This classic Amish recipe sometimes goes by Shoofly, Shoo Fly or Shoo-Fly Pie. Spell it however you like – the ingredients are all similar, and this is one tasty dessert.
Bonus: Shoofly Pie is made using ingredients that you probably already have in your pantry. The only "unusual" ingredient is molasses – and that's not really all that unusual (especially if you like to bake or !). This means that you could whip up a Shoofly Pie pretty much whenever you'd like – maybe for after dinner tonight?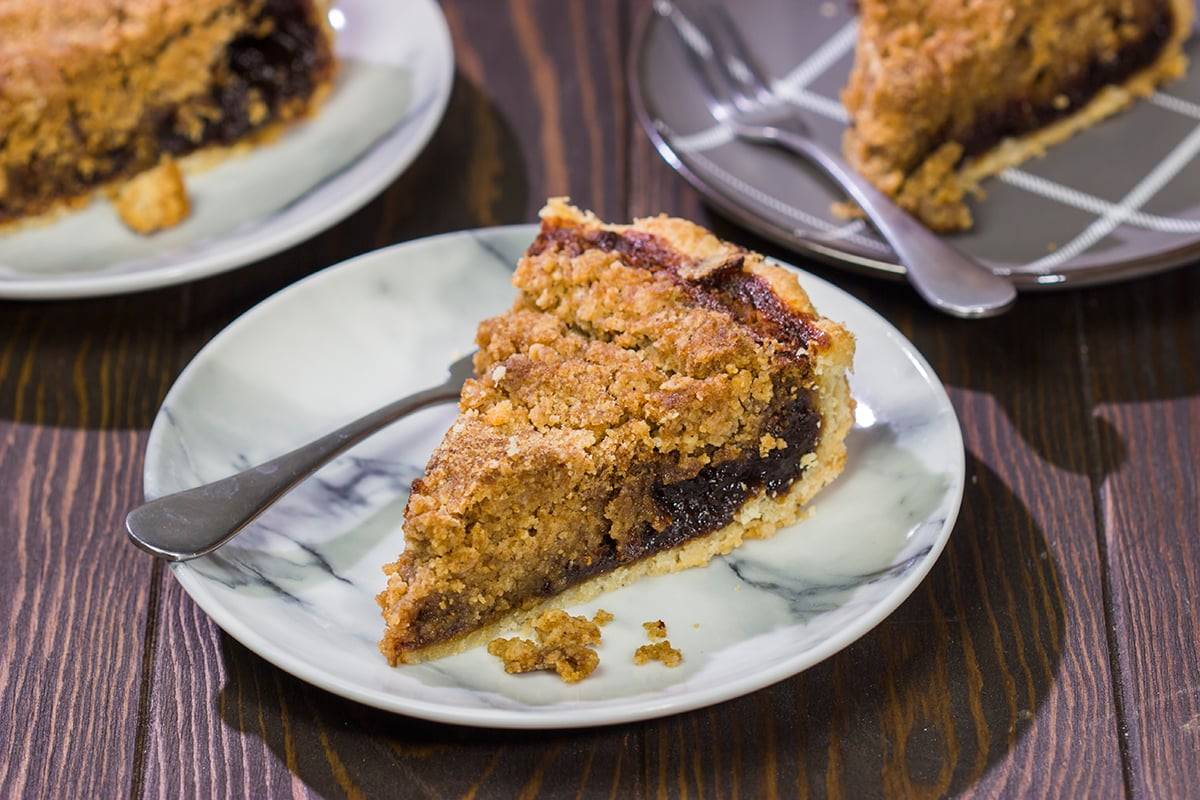 Shoofly Pie, also known as molasses crumb pie, is generally credited to the Pennsylvania Dutch region. The primary ingredients are molasses, brown sugar, butter, flour and boiling water. It's truly a straight-forward recipe. Whenever I make this pie, I like to add some of my favorite baking spices – namely cinnamon, nutmeg, ginger and a tiny pinch of ground cloves – for added flavor. Oh, and there's a ½ teaspoon of baking soda in there, but that's also a pantry staple.
Wet-Bottom or Dry-Bottom
In general, if you asked me to choose between wet-bottom or dry-bottom, chances are I'll be going with the dry-bottom route. Wet-bottomed anything doesn't sound all that appealing! However, I do prefer a wet-bottomed pie in this case.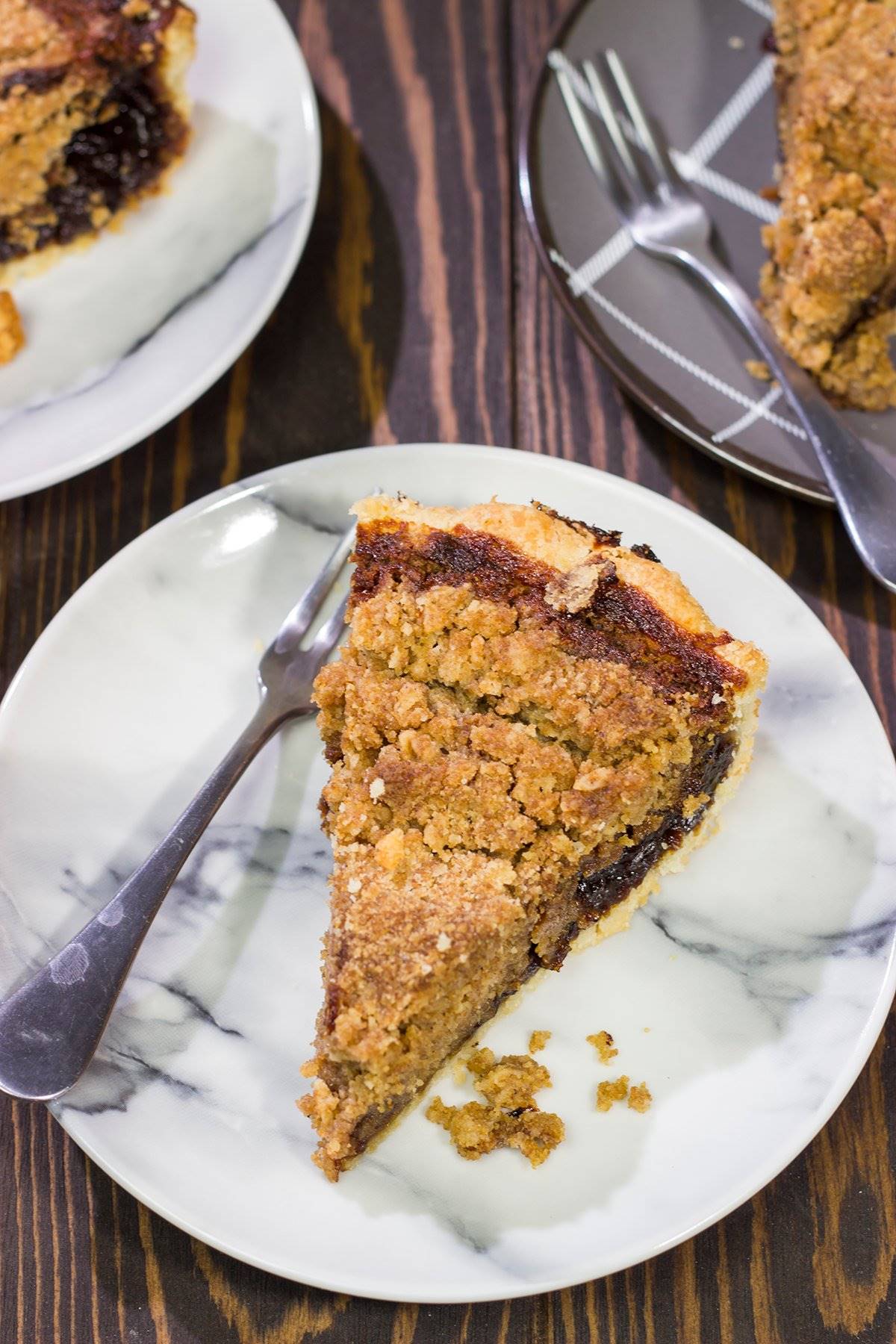 Ok – so what is a wet-bottom shoofly pie? Is the pie crust actually wet? Nope. There are 2 main variations of this classic dessert. In the wet-bottomed version, the liquid mixture is poured into the pie crust and then a generous amount of a crumb mixture gets sprinkled on top. In the dry-bottomed version, some of that crumb topping gets mixed into the liquid mixture.
The difference is that a wet bottom shoofly pie is more of a molasses pie whereas a dry bottom shoofly pie is more of a molasses cake. I personally prefer the wet-bottomed pie version, but there's absolutely nothing wrong with the dry-bottomed cake version. It's personal preference!
Shoofly Pie
As noted above, Shoofly Pie is an easy dessert recipe which relies mainly on pantry ingredients. In fact, this recipe is often mentioned alongside 'desperation pies' – or pies which rely largely on pantry ingredients. These types of recipes become popular during the Great Depression and during the food rationing times around WWII.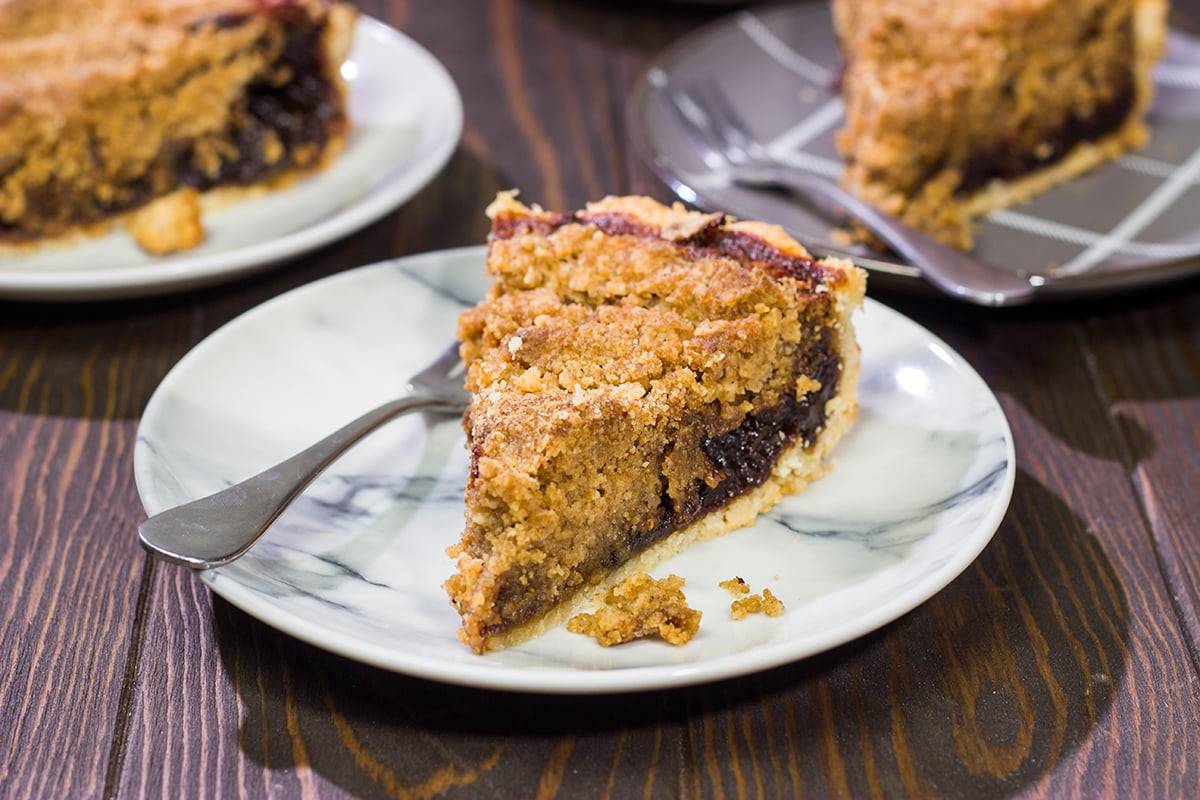 I went with my go-to homemade pie crust here because I absolutely love that recipe. It does require a bit of forethought as the dough needs to chill overnight. However, that pie dough freezes well, so I usually just make 4-5 batches, wrap each in plastic wrap and then store 'em in a freezer bag. That way I can just pull out a batch whenever I need pie dough. (Don't forget to let it thaw overnight in the fridge, though!) With that said, you could absolutely use a store-bought crust here.
When it comes to serving, I typically serve Shoofly Pie by itself. However, a dollop of whipped cream or a scoop of vanilla ice cream would go well here. (Ice cream makes every dessert better, right?)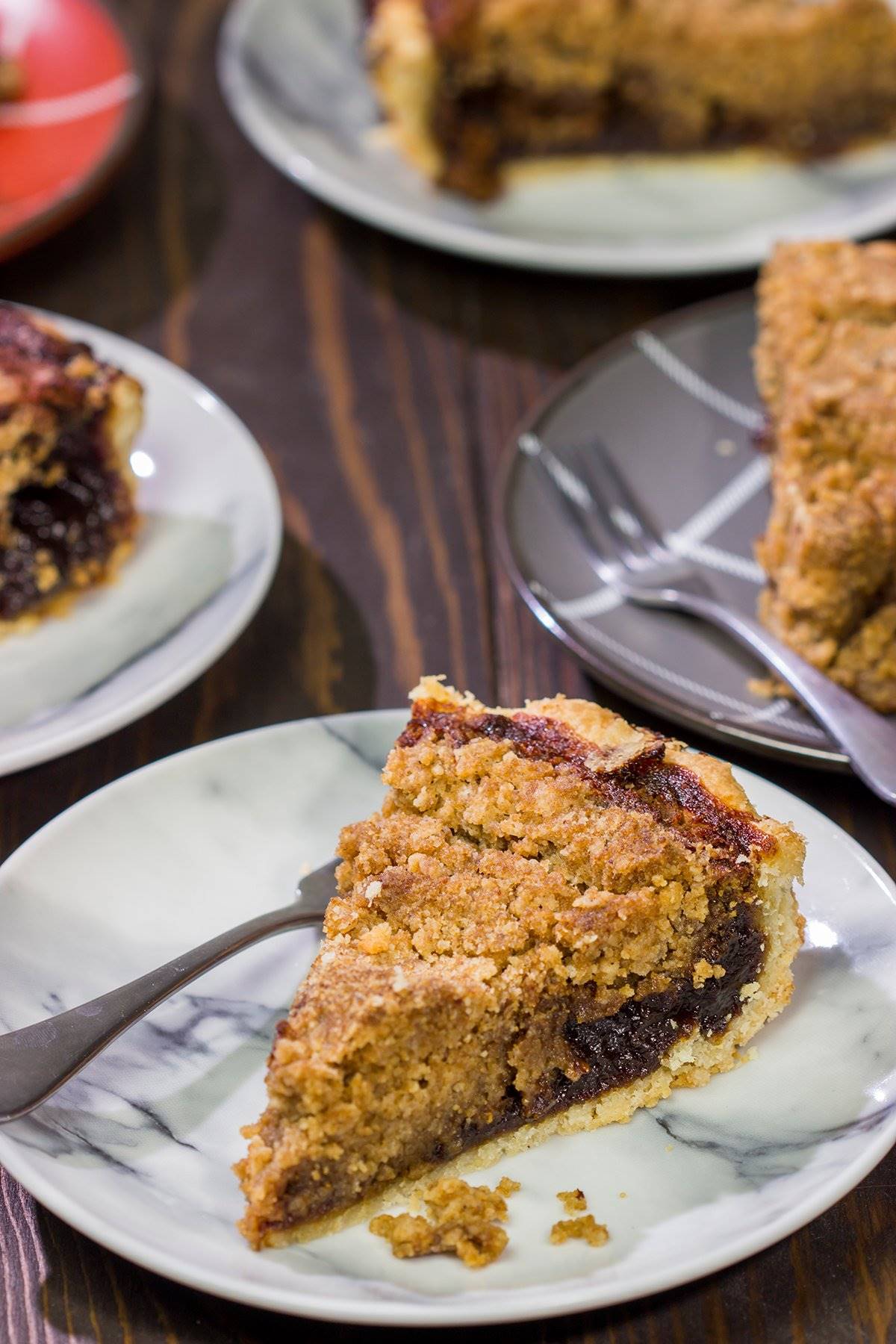 Baker's Note: I recommend light or dark molasses in this recipe. Blackstrap molasses is the darkest molasses, and the flavor can be a bit overwhelming given that molasses is the main ingredient in this recipe. Of course, if you love blackstrap molasses, go for it! Happy baking!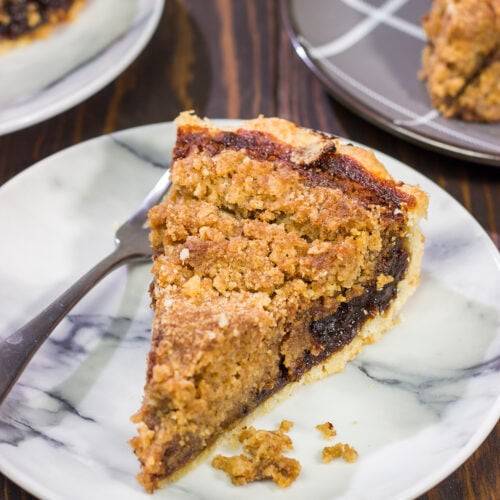 Shoofly Pie
Hailing from the PA Dutch region, Shoofly Pie is an easy pie recipe that relies on molasses for a delicious, deep flavor. Bake one up for dessert tonight!
5 from 5 votes
Prep Time: 15 minutes minutes
Cook Time: 40 minutes minutes
Chilling Time: 8 hours hours
Total Time: 8 hours hours 55 minutes minutes
Servings: 8 servings
Calories: 457 kcal
Ingredients
For the Pie Dough
1⅓
cups
all-purpose flour
2
Tbsp
brown sugar
½
tsp
salt
½
cup
unsalted butter
cold
2
Tbsp
vodka
see note
2-4
Tbsp
cold water
For the Crumb Topping
1½
cups
all-purpose flour
½
cup
dark brown sugar
1
tsp
cinnamon
½
tsp
nutmeg
¼
tsp
ground ginger
pinch
ground cloves
¼
tsp
salt
½
cup
unsalted butter
cut into ¼" cubes
For the Filling
¾
cup
molasses
1
large egg yolk
¾
cup
boiling water
½
tsp
baking soda