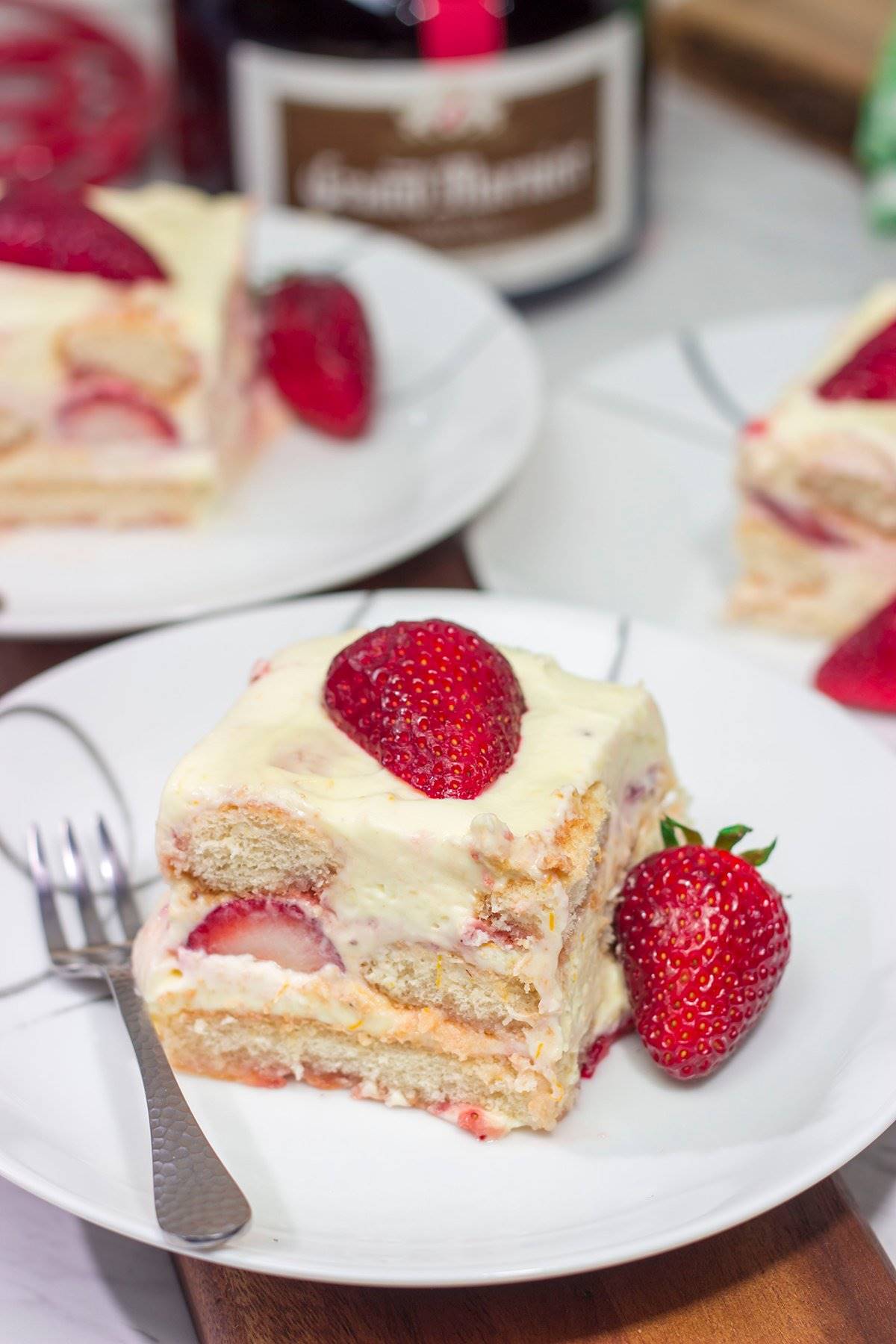 Laura's parents came down to visit us recently, and I made this Strawberry Tiramisu for dessert the first night. (Technically I made it the day before since tiramisu needs to rest overnight.) This brighter version of tiramisu was a huge hit, and we all agreed to was a great dessert for a warm summer evening.
The classic version of tiramisu will always remain a favorite, but this strawberry was quite delicious. I hope you enjoy this recipe as much as we did here!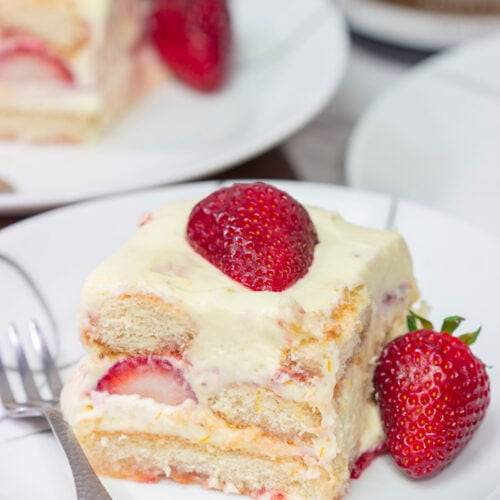 Strawberry Tiramisu
The traditional tiramisu flavors of coffee and cocoa are traded out for orange and strawberries in this Strawberry Tiramisu. It's a great summer dessert recipe!
5 from 4 votes
Prep Time: 30 minutes minutes
Cook Time: 0 minutes minutes
Refrigeration Time: 8 hours hours
Total Time: 8 hours hours 30 minutes minutes
Servings: 9 servings
Calories: 501 kcal
Ingredients
For the Strawberry Puree
16
oz.
fresh strawberries
hulled and sliced, could use raspberries or blueberries instead
2
Tbsp
orange liqueur
such as Cointreau or Grand Marnier
1
Tbsp
orange juice
could use lemon juice instead
3
Tbsp
granulated sugar
¼
cup
strawberry preserves
could use strawberry jam instead
For the Strawberry Tiramisu
½
cup
granulated sugar
4
large egg yolks
1⅓
cups
heavy whipping cream
16
oz.
mascarpone cheese
room temperature
½
Tbsp
orange zest
1
tsp
vanilla extract
8
oz.
fresh strawberries
hulled and sliced
24
crispy ladyfingers
also called Savoiardi
Instructions
For the Strawberry Puree
Using a large bowl, add sliced strawberries, orange liqueur, orange juice and sugar; stir until well combined. Let mixture stand for 15 minutes.
Using a food processor or blender, add strawberry preserves and ~½ of the strawberry/liqueur mixture; puree until smooth.
Transfer strawberry sauce mixture back into the bowl with the remaining sliced strawberries; stir until well combined. Set bowl aside.
For the Strawberry Tiramisu
Using an electric mixer, add the sugar and egg yolks; beat for 4-5 minutes on medium-high speed. (Note: The mixture should expand in volume and turn pale yellow in color.)
Transfer mixture into a large bowl; set aside.
Using an electric mixer, whip the whipping cream for 1-2 minutes, or until soft peaks form.
Add mascarpone and orange zest; beat on medium speed until well combined.
Fold this mascarpone mixture into the egg yolk mixture.
Using an 8"x8" baking pan, spread ~⅔ cup of the strawberry puree evenly onto the bottom of the pan. (Tip: A pan with a removeable bottom is helpful here!)
Lay 8 ladyfingers in a single layer on top of puree. (Tip: Place ladyfingers in pan and then flip them over so that all sides get coated with puree.)
Spread 1 cup of mascarpone mixture on top of ladyfingers.
Repeat process with layers of strawberry puree, ladyfingers and mascarpone two more times.
Cover baking dish with plastic wrap and refrigerate at least 8 hours, preferably overnight.
Before serving, decorate top of tiramisu with sliced strawberries.