White Pizza Dip
We enjoyed that pizza so much that I recreated a similar version…just in dip form! This White Pizza Dip was a huge hit in our house. As I was considering how to serve this dip, I remembered this . Essentially, you make a ring of unbaked garlic knots and fill the center with dip. From there, the whole thing – skillet and all – goes into the oven. About 30 minutes later, you're left with an appetizer that'll have everyone jumping to get a bite!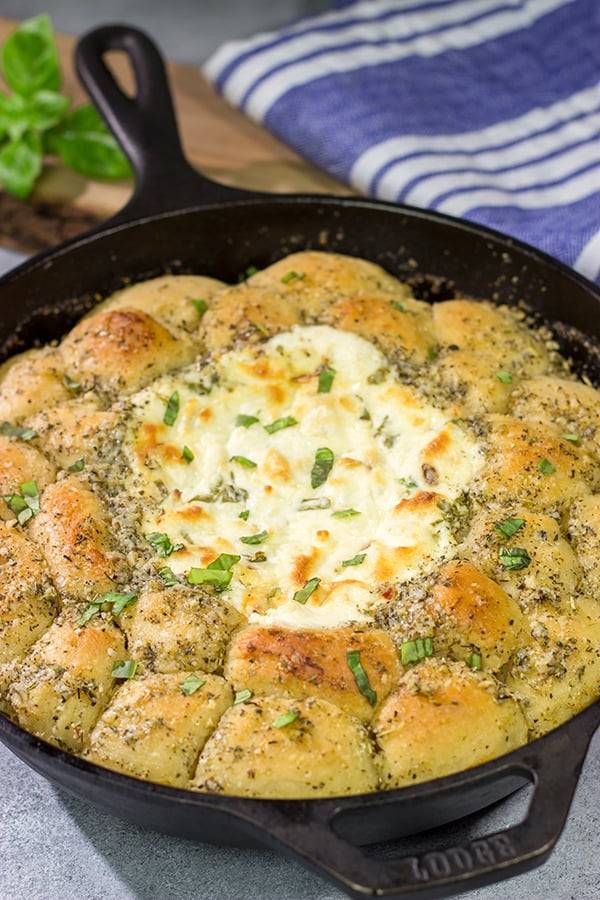 Similar to the base of that Jalapeno Popper Pizza, this White Pizza Dip uses a mixture of cream cheese and mozzarella with a generous amount of grated Parmesan in there for flavor. Oh, and I added a whole bunch of fresh basil. After all, garlic + basil + mozzarella go together like the Scooby + Shaggy + Scooby Snacks.
As this White Pizza Dip is baked and served in a cast iron skillet, you'll need to use care when serving it. The skillet will be hot! Just warn your family and friends to be careful when reaching in for a garlic knot. Alternatively, you could bake the knots and dip separately, although I kinda like the visual appeal of serving the whole thing in a skillet.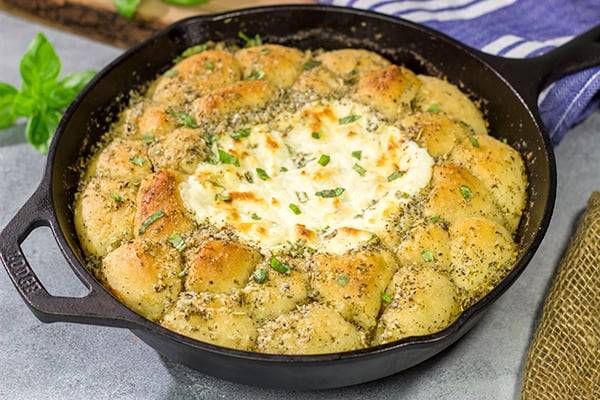 I used for this White Pizza Dip, but you could certainly use store-bought dough instead. (Or call your local pizzeria – many times, local pizza shops will sell you a batch of their unbaked pizza dough. Chances are the pizzeria version will taste better than the store-bought version, too!)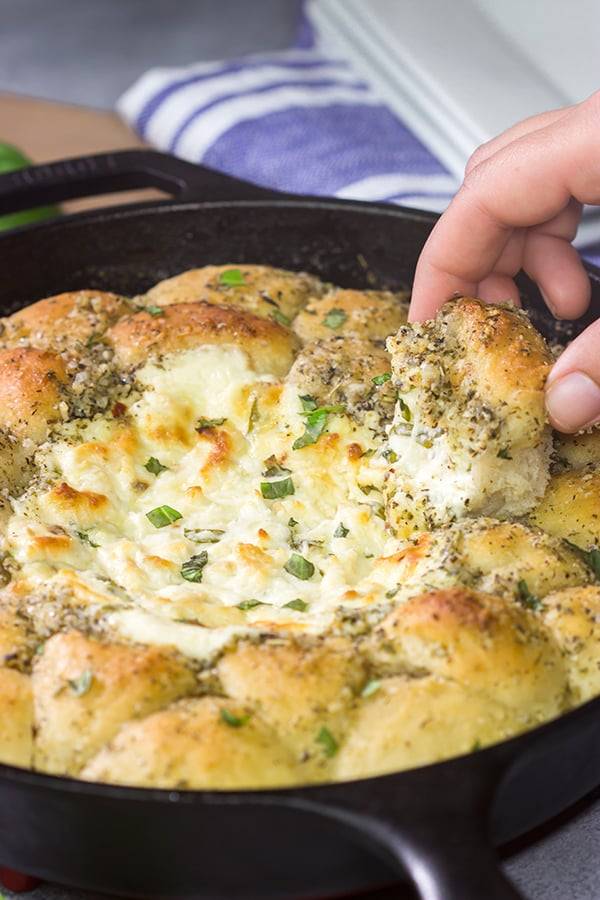 If you're looking for one heck of a tasty appetizer, then put this White Pizza Dip on the menu. It's great for watching sports or just for an appetizer night on the couch – no matter how you serve it, I hope this dip is a big hit in your house! Cheers!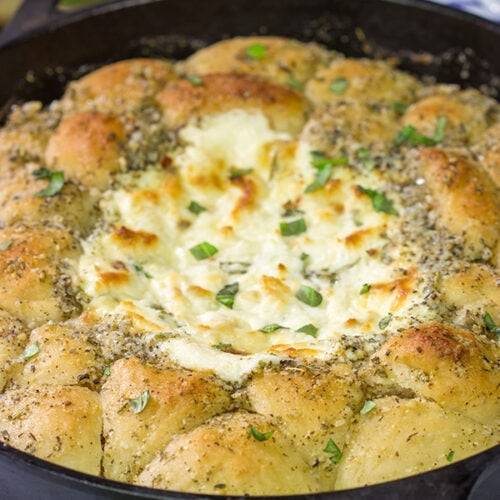 White Pizza Dip
Looking for a tasty and fun appetizer idea? This White Pizza Dip is a creamy, delicious dip…and it's surrounded by warm garlic knots!
5 from 5 votes
Prep Time: 20 minutes minutes
Cook Time: 30 minutes minutes
Rising Time: 1 hour hour
Total Time: 1 hour hour 50 minutes minutes
Servings: 8 servings
Calories: 478 kcal
Ingredients
For the Garlic Knots
24
oz.
homemade or store-bought
1
Tbsp
¼
cup
melted
2
Tbsp
grated
1
tsp
minced
1½
tsp
Italian seasonings
½
tsp
For the White Pizza Dip
8
oz.
softened
1
cup
½
cup
½
cup
1
Tbsp
¼
cup
1½
tsp
1
tsp
Instructions
Brush a 9" or 10" cast iron skillet with olive oil. Place a small bowl or crock in the center of the skillet; set skillet aside. (The crock will be replaced with dip later. It is used at this stage to "hold" the opening in the middle.)
Divide the pizza dough into 12 equal pieces (~2 oz. each).
Cut each piece of dough into 3 pieces. Using a circular motion, roll each piece of dough between countertop and palm of your hand until dough ball becomes tight. Place olive oil in a large bowl and then add balls of dough, tossing until well coated.
Place dough balls around the outside of the prepared skillet. Cover skillet and place in a warm location for 1 hour. (Tip: For a warm location, I put the pan in my oven with just the oven light on.)
Preheat oven to 375°F.
Using a medium bowl, make the dip by combining cream cheese, mozzarella, Parmesan, ricotta, milk, basil, garlic and red pepper flakes; stir until well combined.
Uncover the skillet, remove the crock and spoon the dip into the center of the skillet.
Bake at 375°F for 28-30 minutes, or until top is lightly browned. (Optional: After baking, switch the oven to broil for 2-3 minutes, or until cheese has browned.)
While skillet is in oven, whisk together the melted butter, Parmesan cheese, minced garlic, Italian seasonings and kosher salt.
Remove skillet from oven and brush garlic knots with the butter mixture. Let cool slightly before serving.